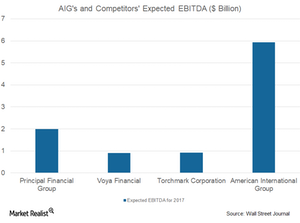 What Could Drive AIG's Performance in the Future?
By Raymond Anderson

Oct. 16 2017, Updated 4:35 p.m. ET
Favorable response
According to Brian Duperreault, chief executive officer of American International Group (AIG), a company in any industry has to take the digitization path for long-term growth and success. He believes the company can grow with the help of digital initiatives and has taken steps to make sure the company's operations are done efficiently.
Duperreault has a good record of achieving growth with the help of acquisitions, which could benefit AIG. The company plans to take a path toward growth with the help of organic opportunities.
Kevin Hogan, who is currently leading the company's life and retirement unit, believes that even consumers think a digital platform would be beneficial in the long term. A unit that currently has client assets of $244.0 billion has begun adopting a path toward digitization.
Hogan is also trying his hand at AI (artificial intelligence) in order to satisfy clients' needs in a unit that currently has $144.8 billion in client assets. The company's group retirement business has client assets of $99.2 billion as of June 30, 2017.
Article continues below advertisement
Expected EBITDA
American International Group (AIG) is expected to report EBITDA (earnings before interest, tax, depreciation, and amortization) of $5.9 billion for 2017. Below are EBITDA expectations for other insurance players (IYF) in 2017: