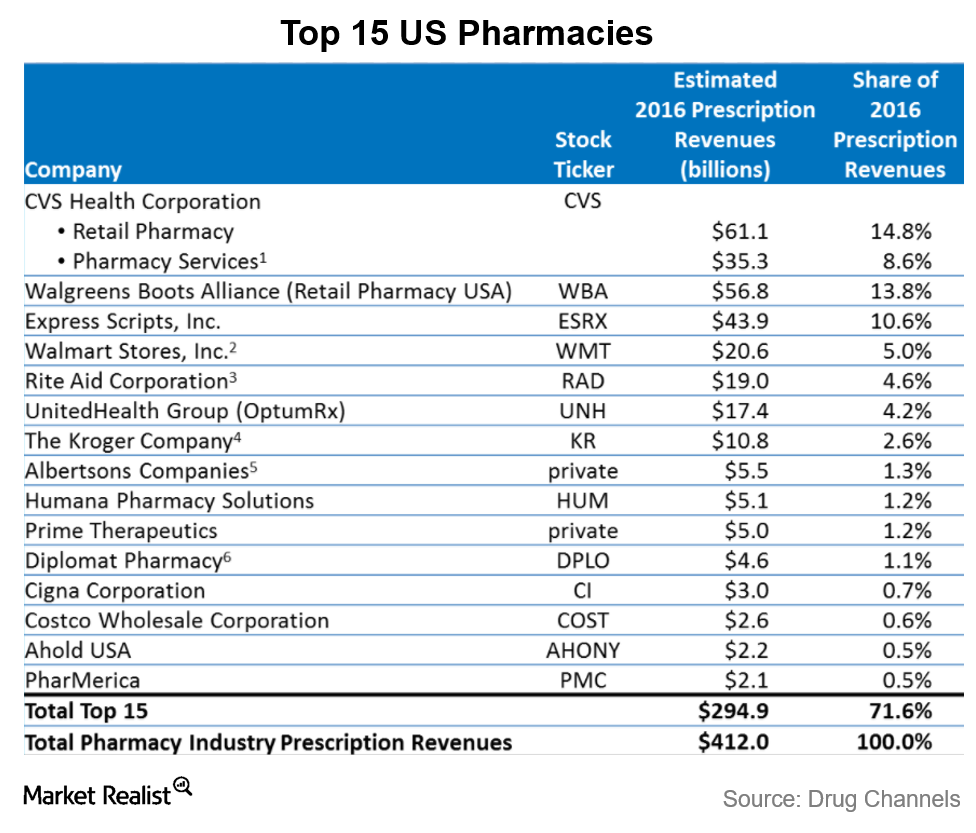 Walgreens versus CVS: Comparing Pharmacy Giants
By Sonya Bells

Oct. 13 2017, Updated 7:42 a.m. ET
Comparing the pharmacy giants: Walgreens versus CVS
The companies have an even greater dominance in metropolitan areas. According to research by Barclays' Meredith Adler, CVS and Walgreens control at least half of the drugstore market in around 70 of the top 100 metropolitan areas.
Article continues below advertisement
Head-to-head comparison
Walgreens operates ~8,100 stores in the United States. The company is also set to capture a bigger piece of the US retail market with its purchase of 1,932 Rite Aid (RAD) stores.
CVS Health currently operates ~9,700 pharmacies across the US. However, the company has a more diversified business model compared to Walgreens, and it's the country's largest PBM (pharmacy benefits manager).
You can read about the business models of the two companies in Parts 2, 3, and 4 of this series. You can read about the recent financial performance of the two companies in Parts 5 and 6 of this series.
Stock market performance
Walgreens and CVS have each delivered year-to-date losses in the stock market this year. Walgreens recently touched a multiyear low, thanks to the ongoing rumors about Amazon (AMZN) entering the pharmaceutical market. We'll explore this topic in Part 7 of this series. For valuations and dividends, please refer to Part 8.
What do analysts think?
Both companies have received solid ratings from Wall Street analysts. None of the 25 analysts that cover the two pharma giants have set a "sell" rating on the stock.
However, Walgreens stock has a better upside than CVS, which we'll explore in Part 9 of this series.