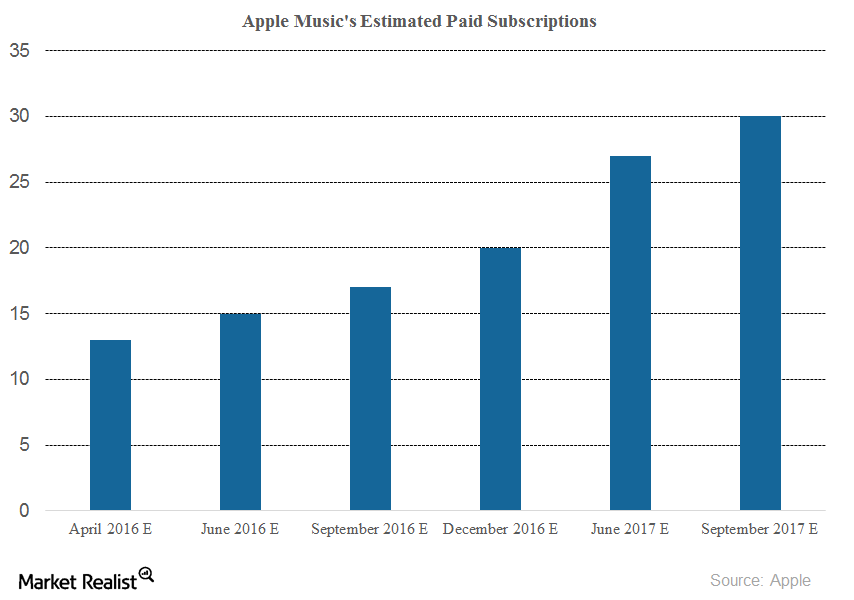 Understanding Apple Music's Rising Subscriber Base
Apple Music now has over 30 million subscribers
Last month, Apple (AAPL) announced that its music streaming service, Apple Music, now has over 30 million subscribers—up from 27 million in June 2017. This indicates a growth of 1 million subscribers per month.
Analysts believe that Apple Music likely gained additional subscribers after the launch of the iPhone 8 and iPhone 8 Plus as well as after the launch of products like the 10.5-inch and 12.9-inch iPad Pro.
Apple is still way behind on-demand music streaming giant Spotify, which stated that it had 60 million paid subscribers at the end of July 2017. Still, Apple Music subscribers have more than doubled from 13 million in April 2016 to 30 million at the end of September 2017.
Article continues below advertisement
Music streaming expected to reach $12.4 billion by 2022
According to Statista, the global music streaming industry will likely generate ~$8.4 billion in revenues in 2017. Revenue is expected to grow at a CAGR (compound annual growth rate) of 8.2% between 2017 and 2022 to reach $12.4 billion by the end of the forecast period, indicating serious growth potential for major players like Apple Music, Pandora (P), and Spotify.
Notably, user penetration is expected to rise from 23.5% in 2017 to 26.6% in 2022. The average revenue per user (ARPU) currently stands at $6.97. The US (SPY) currently accounts for $4.2 billion in revenues, or over 50% of total revenues in 2017.