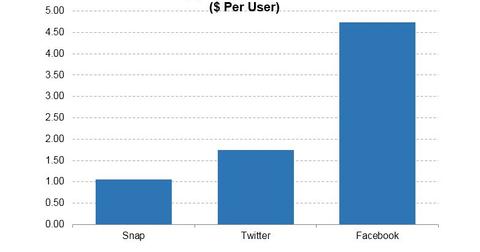 Twitter's Average Revenue per User
By Neha Gupta

Updated
Monetary value of a user
Social media companies Twitter (TWTR), Facebook (FB), and Snap (SNAP) show how much money they make off each of their user accounts as average revenue per user, or ARPU. ARPU is a measure of monetary value a user brings to a platform. Whereas Facebook and Snap released their ARPU for 2Q17, Twitter didn't. However, working backward with Twitter's reported revenue and subscribers shows that the company's worldwide ARPU was about $1.75 in 2Q17. Twitter's US (SPY) ARPU was $4.92 in 2Q17.
Article continues below advertisement
Snap's ARPU jumped 109%
In contrast, Facebook's worldwide ARPU was $4.73 in 2Q17, while its US and Canada ARPU was $19.38. Snap, Snapchat's parent company, posted a strong ARPU improvement in 2Q17. Its worldwide ARPU rose 109% year-over-year to $1.05 in 2Q17. Its North America ARPU came to $1.97 in 2Q17, up from $1.06 in 2Q16.
While Twitter has a higher worldwide ARPU than Snap, it may not be safe. Twitter will need to up its game to avoid being overtaken by Snap and to catch up with Facebook. The results for 3Q17 could provide insight into any progress the company is making in improving its ARPU. It's important to note that for social media companies, ARPU may vary from region to region. For example, Facebook generates higher ARPU in North America than in European (EFA) and Asia-Pacific regions. By increasing its post character limit, Twitter could boost its platform engagement and ARPU.