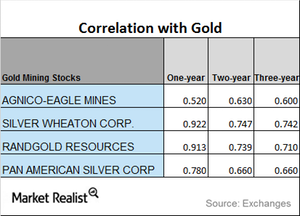 The Latest in Correlation Trends between Mining Stocks and Gold
Mining stock correlations with gold
When investors are thinking about putting their money into precious metal mining stocks, one key technical indicator that they have to study is the correlation of mining stocks with gold. A correlation analysis is important because it gives investors clues about the potential future movement of mining stocks in relation to precious metals.
Here, we'll compare Sibanye Gold (SBGL), Gold Fields (GFI), Yamana Gold (AUY), and Coeur Mining (CDE).
Article continues below advertisement
Correlation trends
Among the four miners that we're analyzing here, Sibanye Gold has the lowest correlation with gold on a one-year basis, while Gold Fields has the highest correlation with gold.
Sibanye and Yamana have seen rising trends in their correlations with gold over the past three years, while the other two miners have seen a mix of upward and downward trends in their correlations with gold during the same period.
The correlation of Gold Fields with gold has risen from a three-year correlation 0.74 to a one-year correlation of 0.92. Remember, a correlation of 0.92 suggests that Gold Fields has moved in the same direction as gold ~92% of the time.