The Aims of the AT&T-Time Warner Merger
Better TV audience targeting In seeking to merge with Time Warner (TWX), AT&T (T) is motivated by advertising prospects. For AT&T, combining Time Warner's media assets, especially high-quality content, with its technology and massive user data should make a huge difference in its advertising business. For example, AT&T hopes that the combination will enable it […]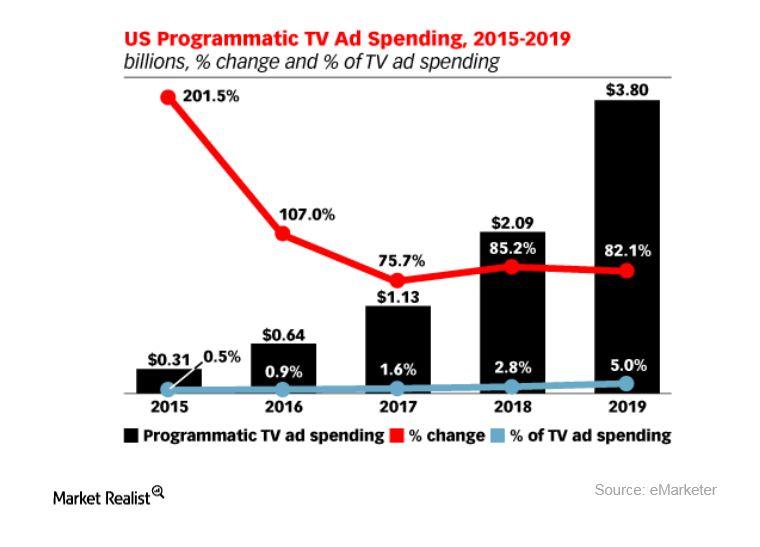 Better TV audience targeting
In seeking to merge with Time Warner (TWX), AT&T (T) is motivated by advertising prospects. For AT&T, combining Time Warner's media assets, especially high-quality content, with its technology and massive user data should make a huge difference in its advertising business. For example, AT&T hopes that the combination will enable it to provide marketers with a higher degree of audience targeting, which should make AT&T's ads more effective and profitable.
Article continues below advertisement
Article continues below advertisement
The US TV ad market
According to market intelligence company eMarketer, the targeted (or addressable) US (SPY) TV ad market is currently smaller than the overall TV ad market. However, the US addressable TV ad market is expanding at an impressive rate.
As shown in the chart above, the addressable US TV ad market is expected to grow 65.8% this year, to $1.3 billion. By 2019, the market should be larger than $3.0 billion.
Responding to the digital ad threat
The overall US TV ad market is estimated to be worth $72.7 billion this year. Growth has been slow in this market due to the advent of digital advertising.
The rise of Internet ads, provided by the likes of Alphabet's (GOOGL) Google and Facebook (FB), has cut deeper into the traditional TV market. AT&T shed 351,000 pay-TV subscribers in the June quarter. Pay-TV companies such as AT&T are responding to the threat of digital ads with targeted TV ads, which promise a better return on investment for marketers.