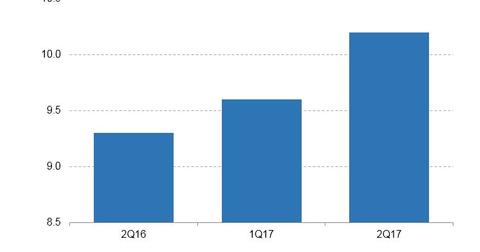 T-Mobile Disrupts an Already Chaotic Scene
By Ruchi Gupta

Updated
T-Mobile puts a twist to unlimited data
T-Mobile (TMUS) won't allow rival wireless network operators any peace. T-Mobile, and to some extent Sprint (S), prompted market leaders AT&T (T) and Verizon (VZ) to bring back unlimited data plans after years of outage. Unlimited data plans hadn't made much economic sense to them.
On September 19, T-Mobile struck again, and the unlimited data scene won't be the same again. The carrier announced that it was raising its unlimited data caps, doubling those of its nearest competitor.
Article continues below advertisement
Unlimited limit moves up
T-Mobile hiked its unlimited data plan cap to 50GB (gigabytes) per line per month. Its unlimited data plan was previously capped at 32GB per line per month. When T-Mobile raised its unlimited data caps, it was already the most generous carrier among its peers. Sprint's unlimited plan was offering 23GB, while both AT&T and Verizon were offering 22GB. Sprint, which has been looking for a merger partner for a long time, is mostly owned by Japanese corporation (EWJ) SoftBank.
Boost to T-Mobile's marketing
Unlimited data plans come with a couple of restrictions. After customers exhaust their data allocation, deprioritization kicks in and speeds slow down when a user is in an area where network traffic is congested.
T-Mobile's move with higher unlimited data caps will allow it to accommodate more data-hungry users, boosting its competition and sales. T-Mobile's 2Q17 revenue grew 10% year-over-year to $10.2 billion thanks to its unlimited data offering.