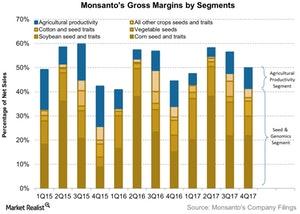 Monsanto's 4Q17 Gross Margins by Segment
Gross margins
In the previous part of this series, we looked at Monsanto's (MON) sales by segment for 4Q17 and fiscal 2017. Let's see now how the sales performance for each segment translates to gross margin performance for the company over the same period.
Keep in mind that margins, profitability, and future expectations affect the valuation of companies (XLB) such as Syngenta (SYT), PotashCorp (POT), and FMC (FMC).
Article continues below advertisement
Margins by segments
In the fourth quarter alone, the overall gross margins for Monsanto expanded year-over-year from 44.4% to 49.9%. The growth in sales appears to have translated to higher margins. Expansion in margins can also be seen in overall margin growth for fiscal 2017, which expanded to 54.0% year-over-year from 48.0%.
The Seed and Genomics segment's gross margins expanded from 34.0% in 4Q16 to 41.4% in 4Q17, while the Agricultural Productivity segment's gross margins contracted from 10.5% to 8.5% over the same period.
Digging deeper
Under the umbrella of the Seeds and Genomics segment, the Corn subsegment's gross margins expanded from 15.1% to 21.8% year-over-year, followed by the Soybean subsegment, which saw its margins expand from 7.0% to 8.1% over the same period. The other subsegments under the Seed and Genomics segment had almost flat margin improvement year-over-year in 4Q17.
In the next part, we will look at Monsanto's overall profitability during the quarter.