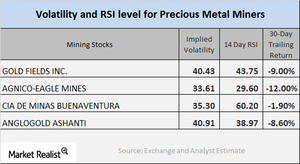 Mining Stocks Today: Your Technical Updates
Technical analysis
When investors consider investing their money in mining stocks, the key indicators they watch are RSI (relative strength index) levels and call implied volatility. Remember, the volatility of mining stocks is often known to be higher than that of the metals themselves.
For this analysis, please note that call implied volatility is a measurement tool of the fluctuations in the price of an asset given the changes in the price of its call option, while RSI shows whether a stock has been overbought or oversold. (If a stock's RSI score is higher than 70, it may be overbought, leading the price to soon correct downward. If a stock's RSI score is lower than 30, it could be oversold and may rapidly increase.)
In this final part of our series, we'll compare Gold Fields (GFI), Agnico-Eagle Mines (AEM), Cia De Minas Buenaventura (BVN), and AngloGold Ashanti (AU).
Notably, the two major leveraged mining funds, the Direxion Daily Gold Miners (NUGT) and the Proshares Ultra Silver (AGQ), witnessed a downward streak in prices on Thursday, October 5, falling 2% and 0.06%, respectively.
Article continues below advertisement
Call implied volatility and RSI
On October 5, 2017, Gold Fields, Agnico-Eagle, Cia De Minas Buenaventura, and AngloGold had implied volatility readings of 40.4%, 33.6%, 35.3%, and 40.9%, respectively.
The above mining stocks' RSI scores have recuperated recently. Gold Fields, Agnico-Eagle, Cia De Minas Buenaventura, and AngloGold now have RSI scores of 43.8, 29.6, 60.2, and 39.0, respectively. These RSI levels had substantially dropped toward the end of September, but they now appear to have rebounded, despite the continued downward sentiment (overall) in precious metals.
Notably, on October 4, silver, platinum, and palladium were all trading higher.