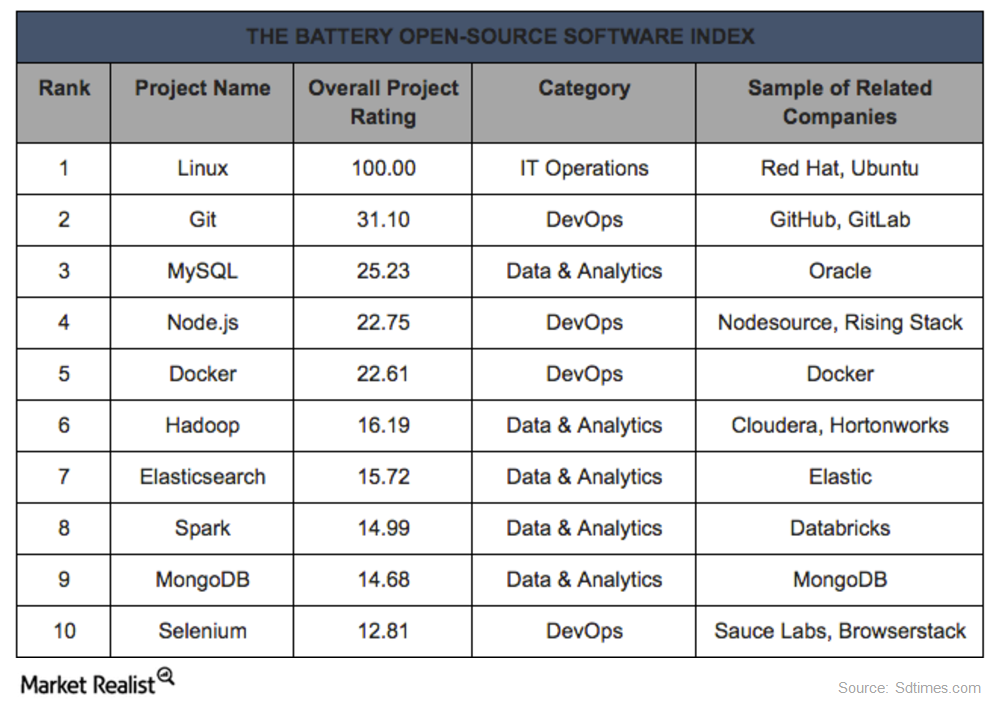 Is Red Hat's Open Source Software Threatening Enterprise Software?
By Anne Shields

Oct. 3 2017, Updated 7:42 a.m. ET
Open source software's rising popularity and adoption
Earlier in the series, we discussed Red Hat's (RHT) better-than-expected fiscal 2Q18 earnings as well as its role in the popularization and adoption of open source software. Leading enterprise software companies who were earlier wary of open source software have jumped on the bandwagon. For example, Microsoft (MSFT) is increasingly turning towards Linux and the open source software movement.
IBM's (IBM) interest in blockchain technology has prompted the company to promote the Hyperledger Project. Hyperledger, a Linux open source project, is a collective effort to accelerate blockchain technology. Its collaborators include Intel (INTC), CME Group, JPMorgan Chase, and DTCC. Though open source software is rapidly moving into all segments of the technology space, its growing strength in the database space is of particular importance. Oracle (ORCL), a leader in the database space, faces a severe threat from open source databases Apache Cassandra and MongoDB, which were just behind Oracle, Microsoft, and IBM in this space.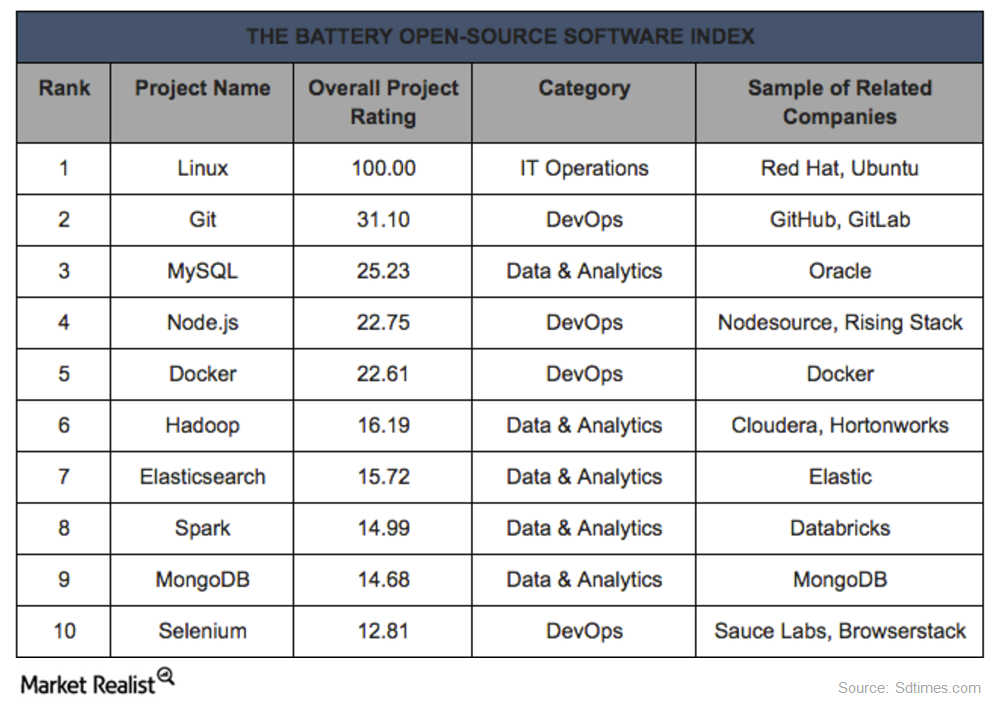 Article continues below advertisement
Open source poses a threat to enterprise IT
The above table shows the BOSS (Battery Open-Source Software) Index, which is released by Battery Ventures. The index offers insight into major open source software trends. Popularity, user activity, job creation ability, and traction among the developer community are the key factors in ranking these open source projects.
Linux tops the list and is followed by Git and Oracle's (ORCL) MySQL. Dharmesh Thakker, general partner at Battery Ventures, discussed the increased adoption of open source software and its impact on enterprise IT: "The rise of open-source software represents a sea change in enterprise IT, and it is increasingly the go-to option when developers need to spin up new applications or infrastructure."