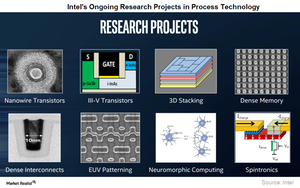 Intel Sees Future in Neuromorphic Chips and Quantum Computing
Intel taps neuromorphic processors
Intel (INTC), a leader in the data processor market, is set to secure its position in the cloud computing space with its new Nervana NNP (Neural Network Processor), which it developed in conjunction with Facebook (FB). Now, it is tapping offline, on-device computing to compete with more energy-efficient ARM processors in the IoT (Internet of Things) space.
Intel plans to bring AI (artificial intelligence) to the device level using neuromorphic processors. Unlike its Core PC (personal computer) and server processors, which depend on programmed operating systems and software to become useful, Intel's neuromorphic processors learn specific tasks by themselves. They work like the human brain.
Article continues below advertisement
A neuromorphic processor is trained using a basic library outlining what to learn and its ultimate purpose. Then it develops and acquires skills through sensory (touch, sight, and sound) input of data. It decides by itself how to use these learned skills to perform its assigned duties using associations and probabilities. It does not depend on a cloud server or the Internet to make decisions.
Intel has launched is first neuromorphic processor, Loihi. The company's complementary products, the Myriad X and EyeQ5 VPUs (vision processing units) act as Loihi's eyes and offline voice recognition technology acts as Loihi's ears. Intel only needs to develop touch and scent sensors to make Loihi almost human-like.
The neuromorphic chips market
Intel believes that neuromorphic processors are the next step in the evolution of its CPUs (central processing units). It believes that neuromorphic chips could become the new normal six years down the line, as domestic robots, autonomous vehicles, and home smart digital assistants become common.
Transparency Market Research expects the neuromorphic processor market to grow at a CAGR (compound annual growth rate) of 19% to $1.8 billion by 2023. The research company identified Intel as a leader in the neuromorphic processor market.
Intel is an early adopter of neuromorphic processors. Later market entries include Qualcomm's (QCOM) Zeroth, IBM's (IBM) TrueNorth, and Hewlett Packard Enterprise's (HPE) human brain-like computer design.
In February 2017, Intel announced that it would focus its neuromorphic processors on cognitive computing, which has human-like senses and thought processes. It could power the whole cognitive computing ecosystem with its Xeon datacenter processors and neuromorphic processors.
Quantum computing
The next wave of revolutionary technology is quantum computing. The technology uses qubits, which are very fragile and require an operating environment temperature of 20 millikelvin to function. Intel has fabricated a 17-qubit superconducting test chip and sent it to its quantum research partner, QuTech, for further testing. It has also put in place processes, materials, and designs to scale up the packaging of quantum chips. With these developments, Intel aims to one day produce components for quantum computers.