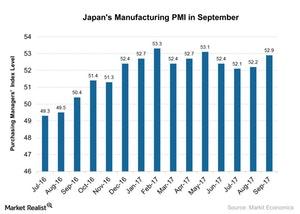 Insight into Japan's Manufacturing in September 2017
Japan's manufacturing PMI in September
Japan's manufacturing PMI stood at 52.90 in September 2017, compared to 52.20 in August 2017. The PMI figure beat the preliminary market estimation of 52.5.
The stronger improvement in Japan's manufacturing PMI in September 2017 was mainly due to the following factors.
Production volume and output improved at a higher rate in September 2017.
New orders and export orders expanded at a faster pace.
However, employment in the manufacturing sector also rose at a slower pace.
The rise in Japan's manufacturing is mainly due to the improvement in both domestic demand (EWJ)(DXJ) and overseas demand (ACWI)(VTI). The business confidence index of Japan also rose strongly in September 2017. It stood at 22 in September, compared to 17 in the previous month. The stronger rise in business confidence signals that businesses are becoming optimistic about the demand outlook.
The improvement in global demand is helping Japan's economy. However, the geopolitical risk that arose from North Korea affected the movement of the yen. The stronger Japanese yen (FXY) could impact Japan's exports. However, the stronger export order in the past year is helping the economy.
In the next part of this series, we'll analyze the performance of the UK manufacturing PMI in September 2017.
Article continues below advertisement
Article continues below advertisement