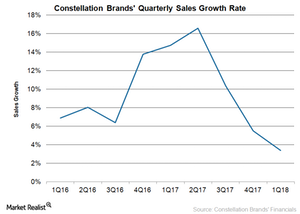 A Look at Constellation Brands' Sales Growth Strategies
Demand for premium beverages
Constellation Brands (STZ) is expanding its beer, wine, and spirits portfolio in the high-end or premium space. This strategy will boost its sales as well as its margins. The company is expanding in the premium space through organic innovation and strategic acquisitions.
Its recent innovations include Moons red blend wine, Cooper & Thief, and the new flavor, Modelo Chelada Tamarindo Picante under the Casa Modelo portfolio.
Article continues below advertisement
Article continues below advertisement
Strategic acquisitions
Constellation Brands acquired Ballast Point Brewing Company in December 2015 to capture growth opportunities in the craft beer space. In August 2017, it further strengthened its position in the high-end beer space with the acquisition of Florida-based craft brewer Funky Buddha, which owns leading brands such as Floridian Hefeweizen and Hop Gun IPA.
In April 2016, Constellation Brands strengthened its fine wine business with the acquisition of The Prisoner Wine Company brands. The acquisition added five fast-growing, higher-margin brands to the company's wine portfolio. It further strengthened its wine business with the Charles Smith acquisition in October 2016.
In October 2016, Constellation Brands acquired Utah-based High West Distillery. This acquisition added award-winning, high-end American straight whiskeys to its portfolio, including American Prairie Bourbon, Double Rye!, Rendezvous Rye, and Campfire.
Most recently, the company announced the purchase of Schrader Cellars wines in June 2017. The wines generally sell to customers for $225 to $250 per bottle. The addition of this California-based business enhances the company's fine wine portfolio.
In the next part of this series, we'll look at analysts' expectations for Constellation Brands' fiscal 2Q18 earnings.