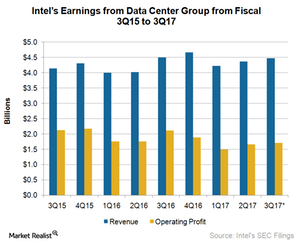 Inside Intel's Data Center Group: A Cloud Opportunity?
By Puja Tayal

Oct. 25 2017, Updated 11:41 a.m. ET
Intel's Data Center Group
With the PC (personal computer) market slowing, Intel (INTC) has been banking on its DCG (Data Center Group) to boost overall earnings. Like the PC CPU (central processing unit) market, Intel dominates the server CPU market with more than 90% share—a dominant position that gives Intel the power to command higher prices for its server CPUs.
This has been driving DCG sales double-digits for the last few years, but Intel has cut its long-term growth forecast for DCG to the high single digits as its biggest segment appears to be dragging. Strong growth from its cloud and networking segments has offset these declines, however, pushing DCG earnings up.
Article continues below advertisement
DCG earnings
In fiscal 2Q17, DCG revenues rose 9% YoY (year-over-year). An 11% YoY decline in enterprise revenues was offset by a 35% YoY growth in the cloud business—impressive on its own, but still lower than the growth of other companies.
Microsoft's (MSFT) revenue from its cloud business, Azure, rose 98% YoY in fiscal 4Q17 (ended June 2017). Gartner estimates that cloud application services will grow at a CAGR (compound annual growth rate) of ~20% through 2017 to 2020.
The cloud business is still a nascent sector with no dominant processor player, giving Intel an opportunity to revive its growth. However, Intel has not been able to deliver any meaningful results from this opportunity so far.
Cloud companies encourage competition
Big cloud companies like Facebook (FB), Apple (AAPL), and Google (GOOG) are looking to develop their own chip designs because they believe hardware to be a key performance differentiator, threatening Intel's large custom chip business.
Another bigger threat comes from ARM Holdings, which was acquired by SoftBank in 2016. ARM uses a different architecture than Intel and licenses its architecture to chipmakers. ARM has already beaten Intel in the mobile space with Qualcomm (QCOM) ARM chips powering more than 95% of the smartphones in the world.
ARM has already launched data center processor designs, which are being used by small players like Cavium. Now, Qualcomm has made an entry in the data center space, and Microsoft has shown interest in using ARM-based server processors. Qualcomm thus has the resources to compete with Intel in terms of research and development.