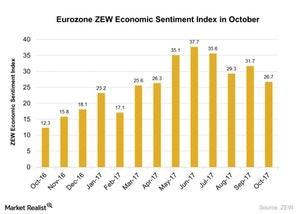 How the Eurozone ZEW Economic Sentiment Index Looked in October
Eurozone ZEW Economic Sentiment Index
According to a report by the Centre for European Economic Research (ZEW), the Eurozone ZEW Economic Sentiment Index fell to 26.7 so far in October compared to 31.7 in September. It didn't meet the market's expectation of 28. It was the lowest figure since April 2017.
The index has been falling gradually since June 2017. The weaker performance in this index is signaling that analysts expect there won't be a sudden improvement in economic activity in the next six months. However, major components of the Eurozone economy showed strong improvement in the past few months. Recently, on October 26, 2017, the European Central Bank (or ECB) declared its monetary policy review decision in which it declared that the central bank will continue its bond-buying program until September 2018. However, it decided to reduce the level of bond size purchases from 60 billion euros to 30 billion euros beginning in January 2018.
The dovish stance taken by the central bank indicates that the financial condition of the economy may not improve for the next six to seven months.
Article continues below advertisement
Performance of major ETFs