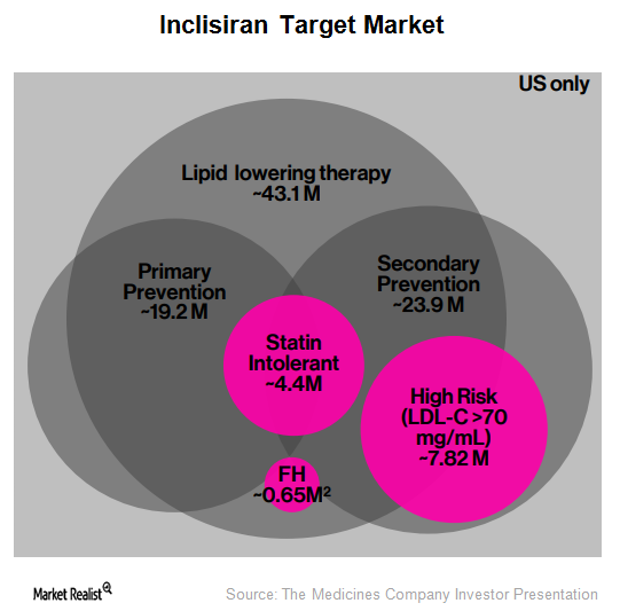 Inclisiran: Long-Term Growth Driver for The Medicines Company?
By Margaret Patrick

Oct. 17 2017, Updated 8:37 a.m. ET
Inclisiran's market opportunity
According to a Monte Carlo simulation performed at Harvard University, it's estimated that 5.0 million patients in the United States stand to benefit from PCSK9 (proprotein convertase subtilisin/kexin type 9) inhibitor therapy. There have been multiple studies that have pegged the number of eligible patients in the United States even higher, in the range of 10.0 million–12.0 million, who could benefit from PCSK9 therapy.
Article continues below advertisement
The Medicines Company (MDCO) expects in-licensed PCSK9 synthesis inhibitor inclisiran to prove to be the best-in-class drug. That's because unlike other PCSK9 inhibitors such as Amgen's (AMGN) Repatha and Sanofi (SNY) and Regeneron's (REGN) Praluent, inclisiran is being developed using Alnylam Pharmaceuticals' unique RNAi (ribonucleic acid interference) technology. That, in turn, is expected to result in significantly higher efficacy and improved safety of inclisiran.
The company plans to release data from its pivotal trials in the second half of 2019. Then it expects to file an NDA (new drug application) and marketing authorization application for inclisiran in the United States and Europe, respectively. The Medicines Company expects to establish a relationship between inclisiran and the significant lowering of low-density lipoproteins cholesterol (or LDL-C) in patients suffering with atherosclerotic cardiovascular disease (or ASCVD) or other cardiovascular diseases, or those patients at high risk of suffering from ASCVD and those with familial hypercholesterolemia.
The Medicines Company makes up 0.38% of the iShares Nasdaq Biotechnology's (IBB) total portfolio holdings.
Research and development expenses
The Medicines Company expects to invest $110.0 million–$150.0 million in pre-launch activities for inclisiran, including clinical development, manufacturing, and production sufficient to meet the initial inventory demand for the launch. Of those expenses, the company believes that $90.0 million will be borne in 2018 and 2019.
The company has also planned to initiate a cardiovascular outcomes study comprised of 14,000 patients to convince payers of the efficacy and safety of the drug. The study is expected to require The Medicines Company to invest $110.0 million–$150.0 million, with $60.0 million invested in 2018 and 2019. In the next two years, The Medicines Company anticipates up to $150.0 million of investments in its inclisiran research program.
In the next part, let's look at payer access for the PCSK9 inhibitor class of drugs.