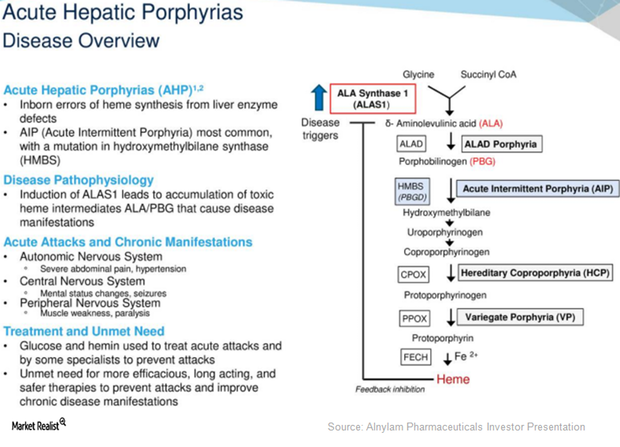 Givosiran May Become Major Growth Driver for Alnylam Pharmaceuticals
By Margaret Patrick

Nov. 1 2017, Updated 9:02 a.m. ET
Givosiran growth prospects
On September 7, 2017, Alnylam Pharmaceuticals (ALNY) announced that it had reached an agreement with the US Food and Drug Administration (or FDA) related to the design of the phase three program for investigational RNAi therapeutic Givosiran as prophylaxis therapy for attacks in patients suffering from acute hepatic porphyrias (or AHP). The company and FDA have together accepted a drop in urinary aminolevulinic acid (or ALA) levels as a surrogate endpoint for this program, which would be a reasonable indicator of the clinical benefit derived from givosiran. Alnylam Pharmaceuticals expects to file a new drug application (or NDA) for givosiran by the end of 2018 subject to positive interim analysis data from the phase three trial in mid-2018.
Notably, Alnylam Pharmaceuticals accounts for 2.3% of the First Trust Health Care AlphaDEX Fund's (FXH) total portfolio holdings.
The above diagram gives a brief overview of the nature of AHP disease and the underserved demand in this area, which could prove to be a solid opportunity for givosiran.
Article continues below advertisement
Givosiran phase one results
In its phase one study, givosiran demonstrated up to a 79% reduction in the ALA levels and up to a 77% drop in porphobilinogen levels, both of which are instrumental in leading to porphyria attacks. The investigational therapy also demonstrated an average decrease of 73% in annualized AHP attack rates as compared to patients on a placebo. The AHP patients on givosiran reduced usage of hemin by an average of 73% in this trial. On May 31, 2017, the FDA granted breakthrough therapy designation to this investigational therapy, which is expected to expedite the drug development program.
Givosiran is expected to be a major ultrarare disease drug in Alnylam Pharmaceuticals' portfolio, enabling the company to compete with other orphan disease players such as United Therapeutics (UTHR), Ionis Pharmaceuticals (IONS), and Alexion Pharmaceuticals (ALXN) for investor attention.