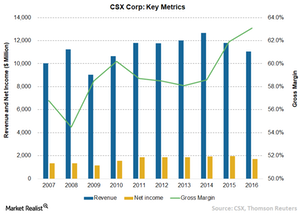 CSX Corporation Has a Wide Economic Moat
VanEck
Efficient Scale in Action: Four Case Studies of Moat Companies
To demonstrate the power of efficient scale in creating economic moats, we highlight four companies: U.S.-based wide moats CSX Corporation and UPS, and international narrow moats Telefonica SA (Spain) and CapitaLand Commercial (Singapore).
CSX Corporation (CSX US) has a "wide economic moat" rating from Morningstar based on cost advantages and efficient scale. CSX is based in Jacksonville, Florida, and is a premier rail transportation company with a market cap of nearly $50 billion. CSX operates in the Eastern United States and controls 20,800 miles of track, hauling coal products, chemicals, intermodal/shipping containers, and other merchandise (such as forest products). Writes Morningstar, "The network of track and assets Class I rails have in place is impossible to replicate. CSX spans the densely populated Eastern U.S., capturing about half of the rail volume in the region. Its rights of way and installed track form a nearly impenetrable barrier to entry."
Article continues below advertisement
Article continues below advertisement
Market Realist
CSX is a leading transportation company
CSX Corporation (CSX) is one of the leading transportation suppliers (IYT)(XTN) in the United States. The company provides rail-based transportation services, including traditional rail service (UNP) and the transport of intermodal containers and trailers (SEA), as well as other transportation services—such as rail-to-truck transfers and bulk commodity operations. The company's network passes through 23 states, the District of Columbia, and the Canadian provinces of Ontario and Quebec. According to the company, around two-thirds of Americans live within its service territory.
Competitive advantage
In order to stay competitive, the company needs to spend large amounts of capital to set up infrastructure. These costs are recouped over a period, helping the company generate a sustainable income.
CSX offers a competitive advantage due to its strong branding, ability to keep costs low, and huge network, which is hard to replicate. Over the last decade, the company's gross margin jumped from 56.8% in 2007 to a record high of 63.1% in 2016. The substantial rise in gross margin shows the company's ability to set service prices without considering the costs involved. In inflationary environments, this advantage provides substantial leeway to raise prices and maintain profitability.
Looking at its prospects, we see that the company is likely to generate higher earnings growth that's sustainable enough to strengthen its economic moat.