A Look at Trends in US Steel Production
US steel production As US (DIA) (DOW) steel production is US steelmakers' major revenue driver, it's very important to track it. In this part, we'll discuss domestic production and capacity utilization. According to the World Steel Association, the United States produced 7.1 million tons of steel in August 2017, an increase of 6.3% YoY (year-over-year). Production rose 5.6% in […]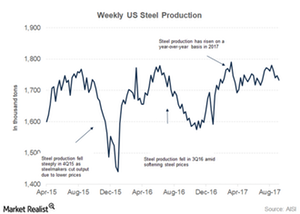 US steel production
As US (DIA) (DOW) steel production is US steelmakers' major revenue driver, it's very important to track it. In this part, we'll discuss domestic production and capacity utilization.
According to the World Steel Association, the United States produced 7.1 million tons of steel in August 2017, an increase of 6.3% YoY (year-over-year). Production rose 5.6% in July.
Steel production in Great Lakes rose 2.7% in the week ended September 30, 2017. Year-to-date, US steel production has risen 3.7% YoY, to 67.8 million tons.
Article continues below advertisement
Article continues below advertisement
Capacity utilization
In the week ended September 30, 2017, US steel capacity utilization was 73.2%, lower than the previous week's 73.8% but significantly higher than the 68% recorded at the same time the year prior. While utilization has been inching higher in 2017, it's still lower than the 90% market participants consider healthy.
Accommodating higher utilization levels
A further reduction in imports could lead to higher utilization in the US steel sector, which would result in higher US steel demand, leading to more demand for iron ore pellets from the only pure-play supplier of iron ore pellets in the Great Lakes area, Cleveland-Cliffs (CLF).
An import reduction would also be beneficial for steelmakers' unit costs, which would be a positive for companies such as AK Steel (AKS), Nucor (NUE), U.S. Steel Corporation (X), Steel Dynamics (STLD), and ArcelorMittal (MT).