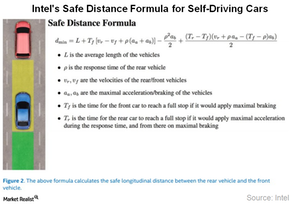 Behind Intel's Strategy to Accelerate Adoption of Autonomous Cars
By Puja Tayal

Updated
What's Intel doing to increase the adoption of autonomous cars? 
While Google's (GOOG) Waymo is testing autonomous cars to prove safety, Tesla (TSLA) and NVIDIA (NVDA) are running level-3 automation cars, which learn from experience and aim to reduce human-related accidents.
But Intel (INTC) has stated that the above efforts are slow and ineffective, as a self-driving car would eventually crash if it's running alongside human-driven cars. A crash from a self-driving car would gather negative attention and impact its adoption. Remember, all companies working on autonomous cars need to bring the trials into production and generate returns on their investments.
Article continues below advertisement
Intel's standards to assure autonomous car safety
Intel is working on accelerating the process of adoption by developing Responsibility Sensitivity Safety standards that ensure that autonomous cars don't cause crashes and remove the blame of a crash from the cars in the event of an accident.
Intel aims to develop a mathematical formula on the basis of behavior and circumstances involved in almost all accidents tracked by the US National Highway Traffic Safety Administration. The formula would calculate known factors such as the maximum speed of a pedestrian and reaction times to automatically adjust the speed of the car. For instance, on a busy street or parking lot, an autonomous car may run at a speed slow enough to stop in time.
If these standards are adopted by the automotive industry, suppliers, and regulators, they could form the basis of software in all autonomous vehicles and speed up the validation of the autonomous driving technology.
Other Intel news in the automotive space
According to Bloomberg, people familiar with the matter stated that Intel has replaced NVIDIA as Tesla's supplier of infotainment solutions. NVIDIA earns a major portion of its automotive sales from car infotainment, and Tesla had been one of its key customers. Tesla's shift to Intel would indicate that Intel's car infotainment technology is competitive with that of NVIDIA.
If this rumor is true, it would make investors and analysts bullish on Intel's efforts in autonomous driving.