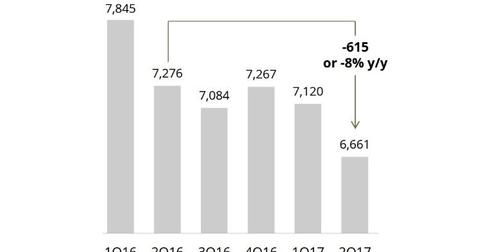 A Look at Groupon's Efficiency Status
By Neha Gupta

Updated
Aiming for long-term profitability
Groupon (GRPN) has a commitment to increase its operational efficiency as part of ensuring long-term profitability. The pursuit of operational efficiency has seen Groupon pull out of certain international markets to focus on growing its business in North America.
What's Groupon's efficiency status so far? Although there is still much ground for the company's management to cover in terms of driving operational efficiency, the efficiency efforts it has made so far have left impressive marks.
Article continues below advertisement
Marks of efficiency drive
In 2Q17, Groupon said that its SG&A (selling, general, and administrative) expenses declined 11% year-over-year to $230.2 million, a direct consequence of its ongoing efficiency drive.
Groupon's efficiency drive has taken different forms, including automating its processes and streamlining its organizational structure. Streamlining of the organization has resulted in a workforce reduction at Groupon. The company said its headcount dropped by 615 an annual basis to 6,661 at the end of 2Q17.
The chart above highlights the evolution of Groupon's headcount.
Efficiency drive lifting bottom line
Groupon posted EPS (earnings per share) of $0.02 in 2Q17, compared to its EPS of -$0.01 in 2Q16, another positive indication of the company's efficiency drive. Analysts on the average were expecting EPS of -$0.04 in 2Q17, which implies that Groupon surpassed expectations on this front.
Considering the deep pockets of Groupon rivals such as Amazon (AMZN), Alibaba (BABA), Walmart (WMT), and eBay (EBAY), it is understandable why achieving greater operational efficiency is a priority for Groupon's management.