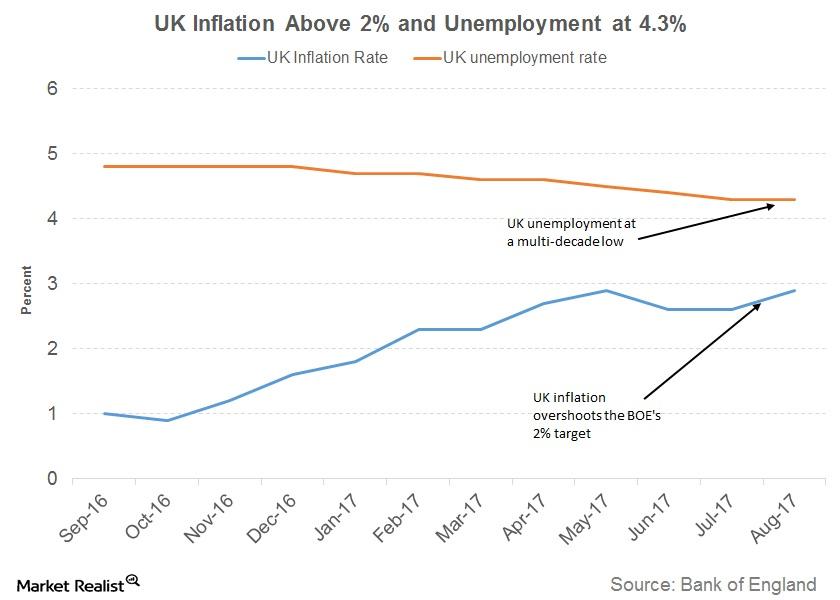 Will Inflation and Unemployment Push the BOE to Raise Rates?
Recent trend in UK inflation
Inflation in the United Kingdom has been on a higher trajectory with consumer prices in the United Kingdom rising 2.9% in August year-over-year. The key contributors to the increase in inflation were clothing and fuel (USO). On a month-over-month basis, the consumer prices rose 0.6% after a fall of 0.1% in July. The inflation rate in the UK has risen from a level of -0.1% in April 2015. The rapid rise in inflation was partly fueled by the weakening of the British currency (FXB) since the Brexit referendum. A weaker currency brought about by inflation (VTIP) made imports expensive, as the value of the pound (GBB) sank with respect to Britain's' trading partners' currencies.
Article continues below advertisement
British unemployment at a 40-year low
Fears about job losses after the Brexit referendum failed to materialize as the unemployment rate in the UK dropped to 4.3%, the lowest level since 1975. If the current pace of recovery continues in the near term, unemployment could drop further.
Will the Bank of England rush to raise rates?
This level of unemployment coupled with rising inflation could drive the Bank of England to initiate the tightening process. The September meeting statement indicated that the rate hikes would be gradual and would depend on UK (EWU) economic performance. The Bank of England should have learned the art of tightening by now from its counterpart across the Atlantic, the US Fed.
In the next part of this series, we'll look at the reason behind the sharp rise in the British pound (GBB) in the last two sessions.