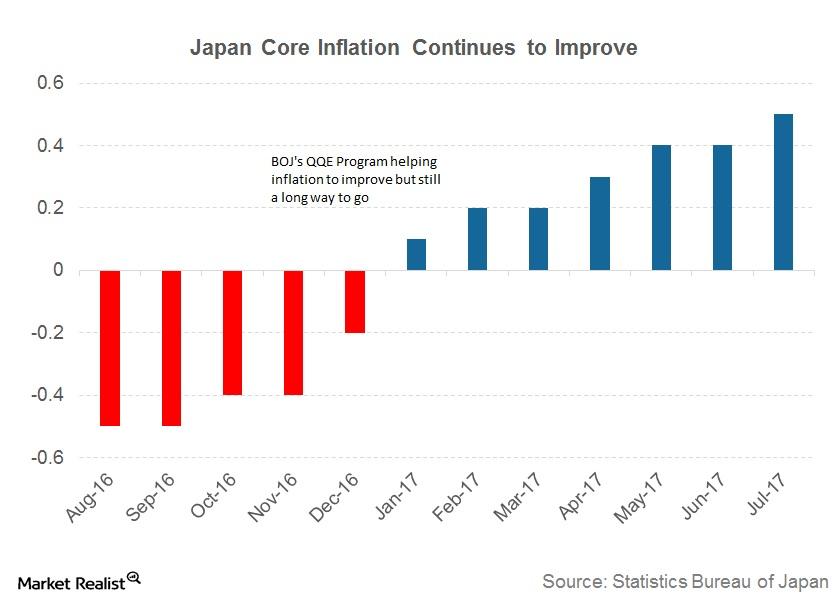 Why Rising Japanese Inflation Isn't Good Enough for Bank of Japan
Japanese inflation is rising, but slowly
Lower levels of inflation are not new to Japan. Inflation in Japan has been low for close to three decades. Only in recent months, with a generous stimulus package from the Bank of Japan, have we seen green shoots in Japanese inflation. The BOJ's (Bank of Japan's) qualitative and quantitative easing (or QQE) programs and a negative interest rate are helping to slowly revive Japanese inflation.
The QQE program targets both short-term and medium-term interest rates. For short-term interest rates, the negative interest rate of -0.1 would be in place to target the medium-term rate. The BOJ will purchase Japanese government bonds (or JGBs) to an extent that the yield on ten-year bonds (BNDX) stays near zero percent. In addition to JGBs (ISHG), the BOJ also purchases ETFs and Japanese REITs at an annual pace of 6.0 trillion yen and 90.0 billion yen, respectively.
Article continues below advertisement
History of Japanese inflation
Just to give a glimpse of Japanese inflation, the average inflation in Japan in the last 40 years has been near the 2.5% mark. The lowest point was in 2009 when inflation plummeted to -2.4%. In recent months, aided by the BOJ's QQE program, Japanese inflation has been stable at a steady growth of 0.40% for the last four months with the cost of transportation being the key contributor to inflation growth.
Why Japanese inflation is far from the 2.0% target
Inflation in Japan has improved on the back of improving oil (USO) prices throughout 2017 and aided by the pickup in growth and narrowing output gap in the economy. But the major contributor remains oil, and that's a concern for the BOJ. Companies in Japan (CAG) (HMC) have focused on improving productivity in the last three decades rather than increasing costs or wages. That trend is continuing since there has been limited wage growth in the past, and that's not likely to change, leaving inflationary pressures non-existent. In such an environment, the BOJ has an uphill task to reach its 2.0% target and is likely to continue the QQE program for an extended period.
In the next part of this series, we'll look at the rising political uncertainty in Japan and its impact on the markets.