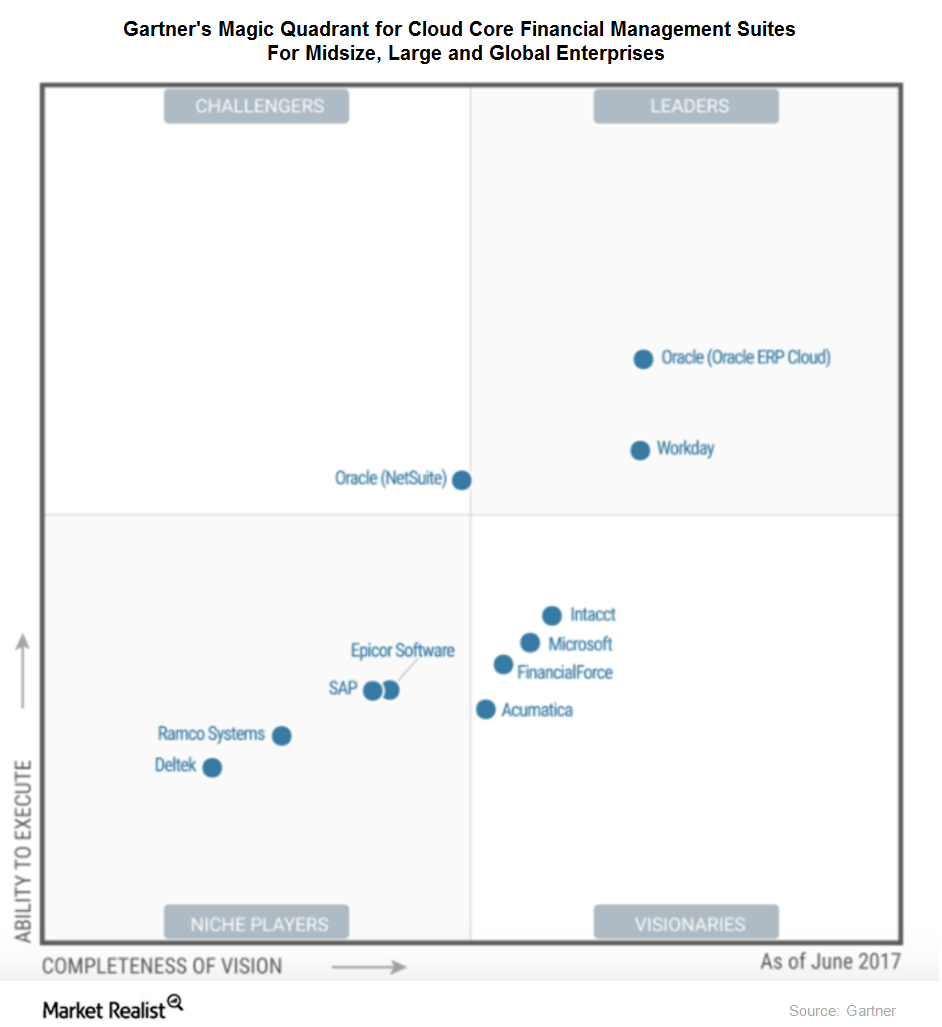 Why Oracle Dominates the ERP Cloud Space
Performance of Oracle's ERP and HCM offerings
Earlier in this series, we discussed the performance of Oracle's (ORCL) cloud offerings in fiscal 1Q18. Let's look into the company's ERP offering, which has enabled it to report the highest growth in the SaaS space.
In fiscal 1Q18, Oracle's Cloud ERP business grew 90%, excluding NetSuite's contribution, and reached an annual run rate of $1.3 billion.
Oracle's Fusion (human capital solution) HCM grew 109%. Comparing Fusion HCM with Workday (WDAY), Oracle said that Fusion HCM growth was "more than double the growth rate of Workday." DaaS (data-as-a-service) grew 53% and reached an annual run rate of $0.5 billion.
Article continues below advertisement
In Oracle's fiscal 1Q18 earnings release, Mark Hurd, the company's co-CEO, noted, "ERP is our largest and most important cloud applications business. We now have about 5,000 Fusion ERP customers plus 12,000 NetSuite ERP customers in the Oracle Cloud. That's 30 times more ERP customers than Workday."
Oracle to benefit from growth in the SaaS and ERP space
According to John Dinsdale, chief analyst and research director at Synergy Research Group, "IaaS and PaaS markets tend to get more attention and are indeed growing more rapidly, but the SaaS market is substantially bigger and will remain so for many years."
This information is positive news for Oracle, as the SaaS space could see continued growth going forward. In the enterprise SaaS space, ERP is expected to witness the highest growth. Currently, Microsoft (MSFT) rules the overall enterprise SaaS space.
If we consider Allied Market Research's estimates, the ERP space is expected to grow 7.2% on an annual basis to reach $41.7 billion by 2020. As a leader in ERP, Oracle is expected to benefit from this trend.
Oracle has a huge database of on-premise software customers. Like its enterprise software peers Microsoft, SAP (SAP), and IBM (IBM), Oracle is aggressively pushing for conversion of these customers to its SaaS-based model.