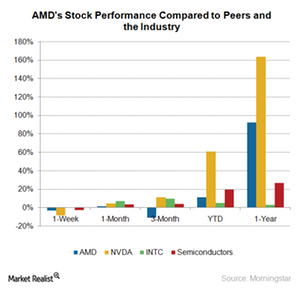 Why Is AMD Stock So Volatile?
AMD is a highly volatile stock
In the previous part of the series, we saw that analysts revised their fiscal 2017 revenue growth estimates for Advanced Micro Devices (AMD), NVIDIA (NVDA), and Intel (INTC) in the past few months. Every revision in the revenue estimate was followed by simultaneous stock price increases, which means the current stock prices have already factored in the expected revenue growth.
As seen from the graph below, AMD and NVIDIA stock have been highly volatile over the past one year. AMD has a beta of 2.74 and NVIDIA has a beta of 2.79, indicating that the stocks are two to three times more reactive to news than the market. Beta is a measure of volatility. The market has a beta of one, so a stock with a beta greater than one is more volatile, and a stock with a beta less than one is less volatile.
Article continues below advertisement
AMD's stock price momentum
Since the start of 2017, AMD stock has risen 11%, underperforming the S&P 500 Index (SPY), which rose 13.2%. Over the last one month, AMD's stock has gone through a lot of ups and downs as investors reacted to the news.
Between September 1 and September 14, 2017, cryptocurrency prices fell significantly, and AMD's stock price fell 7%. Cryptocurrency prices began to grow on September 15, 2017, and AMD prices rose 4.5% in two days.
Similarly, AMD's stock price reacted aggressively to a rumor on CNBC that the company had partnered with automaker Tesla (TSLA) to develop a custom chip for an autonomous car. This growth reversed when the rumor turned out to be a misunderstanding.
Investors book profit
Traders are trading on this stock price momentum, whereas investors are booking profits on high growth. AMD's biggest shareholder, Abu Dhabi's Mubadala Investment, sold 45 million shares in March 2017 when the stock was trading between $13.0 and $14.0, which is near its 52-week high. The shareholder then sold another 40 million shares in early August 2017 when the shares were trading above $13.0. This profit booking brought some correction in the stock price. AMD's stock price fell 13% between March 1 and March 3, 2017, and 9.8% between August 7 and August 10, 2017.
Next, we'll look at the whole Tesla scenario and its impact on AMD stock.