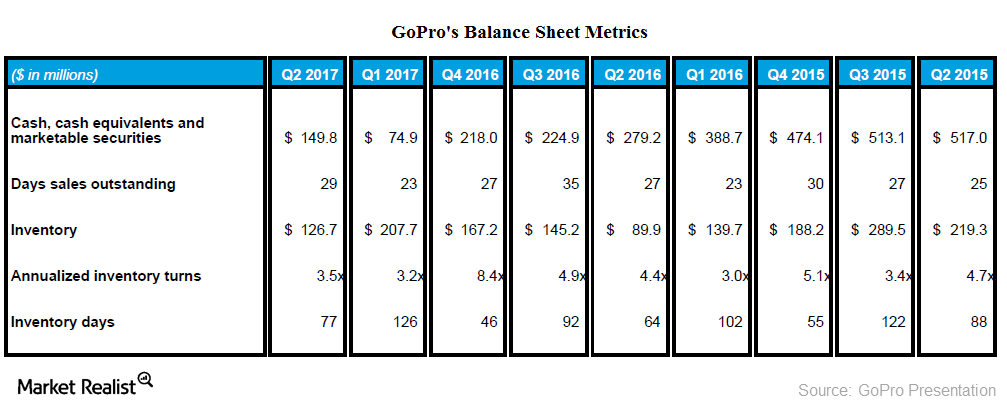 Why GoPro Is Focusing on Inventory Management
GoPro sells products in 45,000 locations
GoPro (GPRO) sells products in over 100 countries and 45,000 locations. While the company tries to ensure product availability to consumers, its vast retail network means that it constantly deals with supply chain challenges. Two years ago, GoPro's inventory levels were very high, as it had overestimated demand for its products.Last year, GoPro's inventory levels fell short.
In 2Q17, GoPro's channel inventory fell 39% to $126.7 million from $207.7 million in 1Q17. GoPro is expecting low double-digit growth in 2017, and its inventory levels will be linked to these revenue estimates. The company aims to exit 2017 with a low inventory and is willing to risk not catering to excess demand in the holiday season.
Article continues below advertisement
CEO Nicholas Woodman stated that "we have intentionally constrained our second half inventory purchases, to both enable us to achieve low double-digit revenue growth while exiting 2017 with low inventory, coupled with a significant planned reduction in channel inventory at the end of 2017 as compared to 2016."
Online sales might help GoPro
While GoPro continues to grapple with channel inventory issues, it can look at selling products directly to customers. According to The Motley Fool, revenue from GoPro.com accounts for less than 10% of the company's total sales. GoPro may also want to increase sales from online retailers such as Amazon (AMZN), which would improve its profit margins. E-commerce channels generally require lower levels of channel inventory and have better margins than traditional retailer channels.