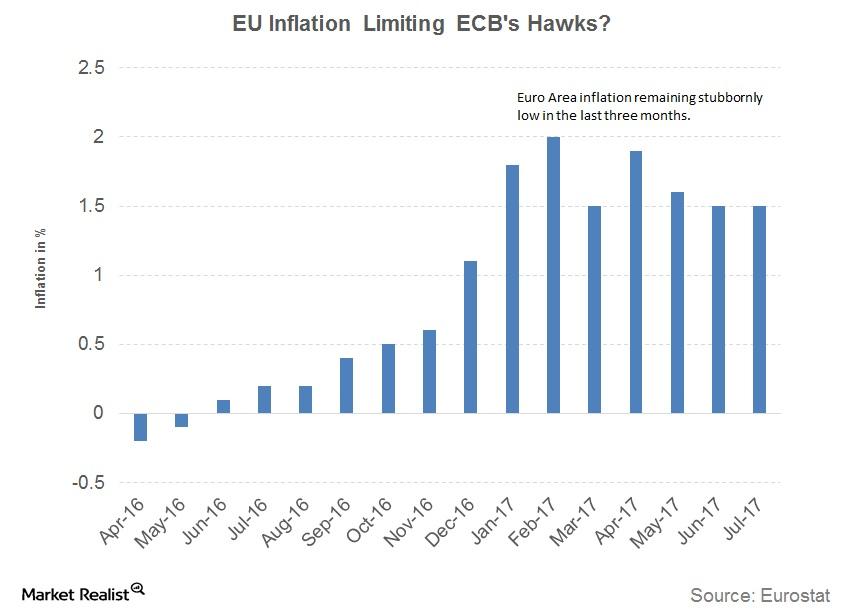 Why Did the ECB Downgrade Its Inflation Outlook?
European inflation outlook revised lower
In its September 7 policy meeting, the ECB (European Central Bank) downgraded the outlook for the EU economy's inflation. The central bank left the forecast for 2017 unchanged at 1.5% and lowered the forecast for 2018 and 2019 to 1.2% and 1.5%, respectively.
This move came as a surprise because the ECB, even recently, had been confident that its 2% inflation (WIP) target could be achieved by 2019.
Article continues below advertisement
Wage growth in Europe is still lagging
The ECB's problem is wage growth, and it can only hope that the continued strong momentum in economic activity can solve this issue. The recently reported data indicated wage growth of 1.6%, which is below the ECB's average projection of 1.8%.
The ECB laid out higher projections for wage growth in the September 7 meeting, but that outlook continues to look challenging, as unemployment remains above 7%. Wage growth can be expected to improve if unemployment levels fall.
The key culprit for lower inflation: the euro
ECB President Mario Draghi tried to highlight the central bank's concern about the rising euro (FXE) but failed to convince markets that the ECB would try to limit the euro's (EUO) ascent. But why is an appreciating euro (ULE) bad for the EU economy?
Imported inflation—that is, the cost of goods imported into the country—become cheaper when the euro appreciates. The euro's appreciation of close to 14% against the US dollar in 2017 has limited the rise of imported inflation in the Eurozone (FEZ), stopping the ECB from being overly aggressive.
The current monetary divergence between developed economies is likely to give the euro a preferred currency status going forward, spoiling the efforts of the ECB to lift inflation to the 2% target.
In the next part of this series, we'll discuss other troubles caused by the euro.