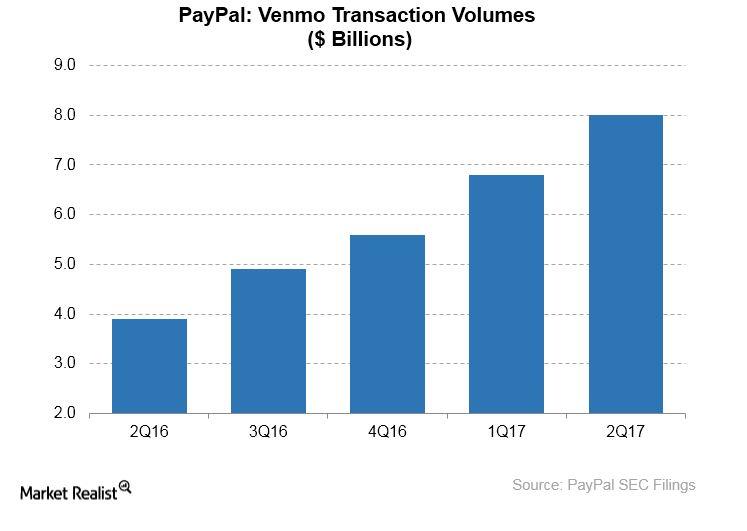 Why BTIG Is Bullish on PayPal
PayPal's earnings rose 27%
PayPal (PYPL) could have bright prospects despite the competitive threat it faces from Square (SQ) and Apple (AAPL) in the online payment market, according to equity research firm BTIG.
PayPal's revenue for 2Q17 rose 18.0% to $3.1 billion, while its adjusted EPS (earnings per share) rose 27.0% to $0.46. Both figures topped consensus estimates, just as they did in the previous quarter. The company's active customer accounts rose 12.0% to 210.0 million, of which 17.0 million were merchant accounts.
Article continues below advertisement
Venmo is a PayPal bright spot
According to TheStreet, citing analyst Mark Palmer of BTIG, PayPal's future is bright partly because of its Millennial-friendly, peer-to-peer payment service Venmo. Through the Venmo app (application), a user can send money to a friend or pay for an online purchase.
According to PayPal, Venmo transaction volumes rose 103.0% to $8.0 billion in 2Q17. The chart above illustrates the growth of Venmo payment volumes over the last several quarters.
Although Venmo is free for consumers, PayPal has figured out how to monetize the service. Through Venmo, PayPal enables merchants to accept payment from Venmo users and charges a fee for processing the transaction. As PayPal's merchant customer base grows, income from Venmo is expected to grow as well.
Ability to lower credit risk
The other reason BTIG is bullish on PayPal is tied to what the firm views as potential in PayPal's credit business. PayPal supplies small loans to its merchant and consumer customers, allowing it to generate interest income and build a loyal base of customers.
Although lending to small businesses and consumers is deemed a risky undertaking that has kept large banks such as JPMorgan Chase (JPM) and Bank of America (BAC) out of this space, BTIG is impressed that PayPal can lower its credit risk.