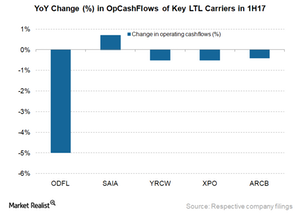 Which Less-than-Truckload Carrier Saw Highest Operating Cashflows?
Operating cash flows to revenues
In this article, we'll analyze the operating cash flows of these LTL (less-than-truckload) carriers in 1H17. Usually, companies report cash-flow statements on a cumulative basis every quarter unlike revenues.
We'll analyze the LTL carriers based on the operating-cash-to-revenues ratio. This ratio reflects a company's ability to convert its revenues into cash. The metric gives investors a sense of the company's business operating efficiency. Since operating costs form the basis for pricing in the trucking industry, this ratio is important.
Article continues below advertisement
Why is this ratio significant?
Normally, the operating cash flows should go up with the increase in revenue levels. However, if cash flows don't rise in accordance with increased revenues, it points to a change in terms of revenues or poor management of trade receivables. It's a good sign if this ratio remains consistent or goes up on a year-over-year basis. There are no defined standards for this ratio, but investors prefer companies with reasonable cash levels.
Which LTL carrier leads the pack?
The above graph shows that almost all the discussed less-than-truckload carriers (XTN) have reported a fall in operating cash-flows-to-revenue ratios. Old Dominion Freight Line (ODFL) has the highest level of operating cash as a percentage of revenues. However, the ratio has come down to 15% in 1H17 from 20% a year before, revealing difficulties in revenue-to-cash conversion.
The company is followed by SAIA (SAIA) in terms of levels of operating cash to revenues. SAIA is the only company where the ratio has gone up year-over-year in the first half of 2017. Improvement of 0.7% in SAIA's ratio reflects either better sales terms or improved trade receivables.
ArcBest's (ARCB) ratio was 3.7% in 1H17, indicating a 0.4% drop from 1H16. XPO Logistics (XPO) also recorded a 0.5% deterioration in its operating cash-flows-to-revenues ratio. The integrations of XPO's three major recent acquisitions have been underway. YRC Worldwide (YRCW) also registered a fall in the ratio by 0.5% in the first six months of 2017.
Next, we'll look at less-than-truckload carriers' leverage levels.