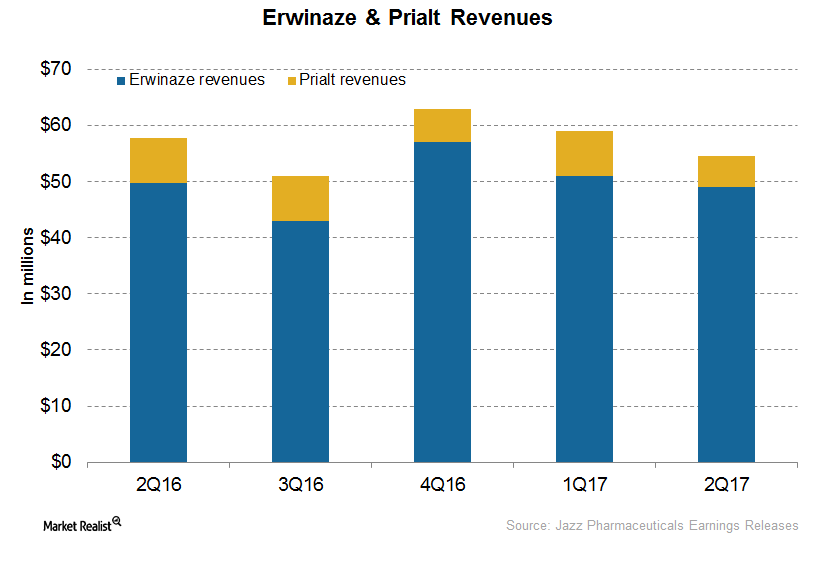 Where Jazz Pharmaceuticals' Erwinaze and Prialt Are Positioned after 2Q17
Erwinaze revenue trends
In 2Q17, Jazz Pharmaceuticals' (JAZZ) Erwinaze generated revenues of ~$49 million, which represents a ~1% fall on a YoY (year-over-year) basis and a ~4% fall on a QoQ (quarter-over-quarter) basis. In 1H17, Erwinaze reported revenues of ~$100.4 million, compared with $100.9 million in 1H16.
Jazz has estimated that Erwinaze's net sales for fiscal 2017 will be in the range of $205 million–$225 million. But it has faced challenges in the supply of Erwinaze on the global market.
Notably, Portion Biopharma manufactures Erwinaze for Jazz, and in January 2017, Portion received a warning letter from the FDA (US Food and Drug Administration). Portion and Jazz will meet with the FDA in the third quarter of 2017 for a discussion of the warning letter.
Portion claims to have made progress addressing the issues associated with the letter, and it has increased staffing and resources with an aim to increase capacity and make considerable progress for a better supply of Erwinaze. The supply improvement of Erwinaze is expected to be realized in 2018.
Article continues below advertisement
About Erwinaze
Erwinaze (asparaginase Erwinia chrysanthemi) is used as a component of a multi-agent chemotherapeutic regimen for the treatment of individuals with ALL (acute lymphoblastic leukemia) who have established hypersensitivity to E.Coli-derived asparaginase.
Prialt revenue trends
In 2Q17, Prialt reported revenues of ~$5.6 million, compared with $8 million in 2Q16. In 1H17, Prialt reported revenues of ~$13.3 million, compared with $14.2 million in 1H16. The Prialt (ziconotide) intrathecal fusion is used for the treatment of severe chronic pain in patients who are intolerant to systemic analgesics, adjunctive therapies, or intrathecal morphine.
Jazz's peers in the ALL drug market include Novartis (NVS), Sanofi (SNY), Bristol-Myers Squibb (BMY), and Pfizer. Notably, the Pharmaceutical ETF (PPH) invests ~2.8% of its total portfolio in JAZZ.