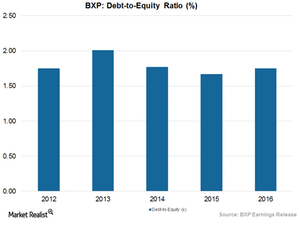 What's Boston Properties' Balance Sheet Position?
Why is debt important for REITs?
REITs depend on equity and debt for their working capital. They often engage in expansionary and development activities in order to maintain profitability. Further, the REITs lease out their properties to tenants, and they have to keep them in proper condition in order to maintain occupancy.
However, too much dependency on debt may lead to high cost of debt and also may lead to liquidity. Further, the Fed has embarked on phased interest rate increases, which is a concern for REITs like Boston Properties (BXP), Simon Property (SPG), Prologis (PLD), and Vornado Realty Trust (VNO). Thus, REITs will have to properly leverage their balance sheet in order to maintain their profitability. The First Trust S&P REIT ETF (FRI), of which these REITs make 15%, has an expense ratio of 0.49%.
Article continues below advertisement
Boston Properties' balance sheet position
Boston Properties had a debt-to-equity ratio of 1.82x, higher than the industry mean of 1.05x. The company had cash and cash equivalents of $492.4 million compared to $356.9 million in December 2016. However, interest income fell $0.9 million compared to the previous year.
Capital activities to improve balance sheet position
During 2Q17, Boston Properties amended its revolving credit agreement in order to reduce the interest rate, increase the maturity date, as well as expand the credit limit. It also renewed its "at the market" (or ATM) stock offering program, which allows it to sell common stock worth $600.0 million over a three-year period. It replaces a program, which was scheduled to end in June 2017. The company intends to use the proceeds for general business programs and debt reduction.
Boston Properties further completed the payback of $1.6 billion of the debt in 767 Fifth Avenue. This helped the company lower the overall interest rate and extend the average maturity level of its debts.
In the next article, we'll look into the company's shareholder return policy.