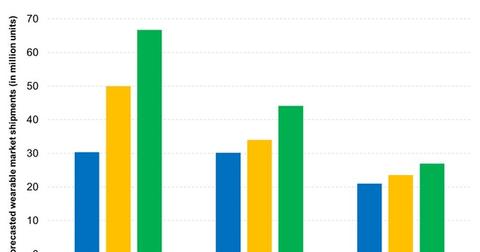 What the New Apple Watch Series 3 Brings to the Table
By Sanmit Amin

Updated
Apple Watch Series 3 to have cellular capabilities
Apple (AAPL) announced a new Apple Watch on Tuesday, September 12. As anticipated, the smartwatch will come with cellular connectivity, which will further set it apart from other smartwatches. The new watch, dubbed "Apple Watch Series 3," will have an LTE (long-term evolution) chip. The chip will allow the watch to connect to cellular networks. The smartwatch will now have many iPhone-like functions. This is a decent addition, as the cellular connectivity will now allow users to leave their iPhones at home. It will also have wireless charging through AirPower.
Article continues below advertisement
While the Apple Watch is far from being a medical device, its latest version can monitor irregular heartbeats even when the user is not moving. The watch will be available from September 22 and the ones with cellular functionality will cost $399, and the ones without will cost $329. The watch looks similar to the previous version, but as mentioned above, will have some important differences.
Apple Watch now has the second highest market share
Apple Watch has seen robust growth, and according to IDC, the company has just about overtaken Fitbit (FIT) in the overall wearable market (WEAR). According to IDC estimates, Apple sold 3.4 million smartwatches in 2Q17, a 49.7% increase from units sold in the same quarter last year. It now stands second in the overall wearables market, marginally behind Xiaomi, which shipped 3.5 million Mi bands in the quarter. Apple doesn't disclose the number of Apple Watch units it ships.