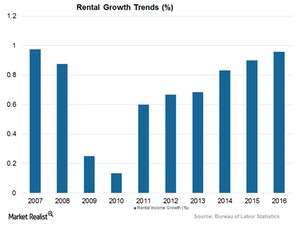 What Lies Ahead for Boston Properties in 2017?
The present scenario
These REITs make up almost 15% of the First Trust S&P REIT ETF (FRI), which has a broadly diversified portfolio and a low beta score of 0.56, thus providing a cushion to investors from volatility in the market. The pro-American policy and employment growth have increased demand for these companies' office spaces.
Although the rent growth has moderated in the recent past mainly due to higher supply, the demand still remains ahead of supply, especially in Class A cities, which are witnessing high-income growth. Thus, these areas are also witnessing high rent growth.
Commercial REITs have strategically positioned their properties in the premium locations of Boston, New York, San Francisco, and New York. These areas have high barriers to entry and have high rent growth. The company is confident of carrying on its business momentum in the near future.
The upbeat results in the second quarter as well as the first half of 2017 have further increased management's confidence. This has prompted management to increase the fiscal 2017 outlook for earnings and FFO during its second quarter 2017 earnings call.
Article continues below advertisement
Boston Properties raised its EPS (earnings per share) outlook for 2017 to a range of $2.72 to $2.77 per share. The midpoint of the range reflects an $0.11 per share increase from the range expected earlier. Further, management hiked its FFO (funds from operation) per share outlook for fiscal 2017 to $6.20 to $6.25 per share. The midpoint of the new guidance reflects a $0.04 per share gain from the previous guidance. BXP expects same-property NOI (net operating income) to grow by 25 basis points at the midpoint to a range of 2% and 3% YoY.
Net interest expense is expected to be between $355 million to $368 million for fiscal 2017. For 2018, the company expects to incur a higher net interest expense in the range of $390 million and $410 million.
In the next article, we'll find out what factors are helping BXP to post impressive top-line figures.