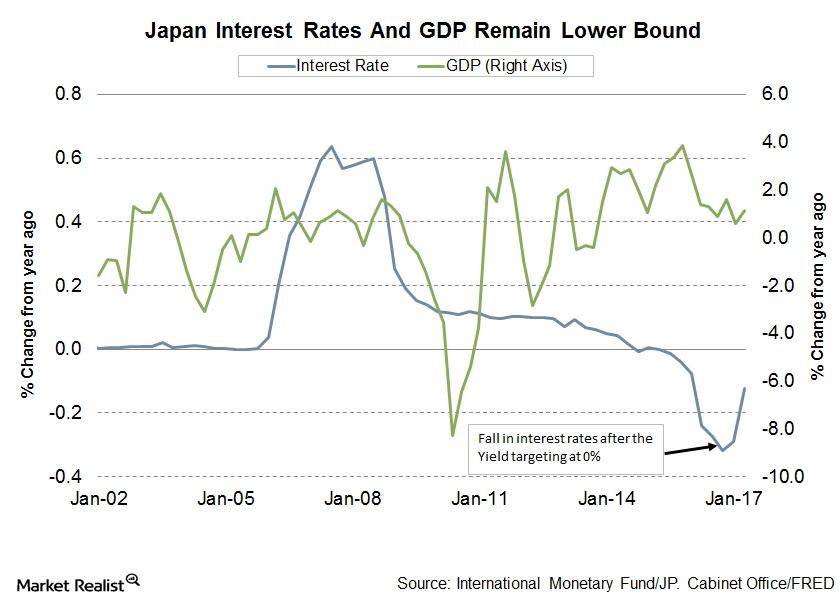 Update on the Bank of Japan's September Policy Meeting
Bank of Japan leaves policy unchanged
The Bank of Japan (or BOJ) left its policy unchanged at its September meeting. By an 8–1 majority vote, the policy board decided to leave its policy and its qualitative and quantitative monetary easing (or QQE) with a yield curve control unchanged. According to the post-meeting statement, the BOJ expects the Japanese economy (JPXN) to continue with moderate expansion and the domestic uptrend to remain strong.
Article continues below advertisement
Outlook on the Japanese economy
The BOJ continues to believe that the accommodative financial conditions and fiscal spending through its QQE program will improve domestic demand and help maintain the spending levels of both corporations and households. The BOJ had a positive view on exports, expecting a further increase in demand from overseas economies. Inflation is expected to continue with its uptrend and gradually progress toward the 2.0% target.
BOJ sees risks to the economic outlook
The BOJ, according to its September policy statement, sees many external risks to its economic outlook. These risks include US economic policies and their impact on the global financial markets, developments in emerging and commodity-exporting economies, the outcome of the Brexit negotiations, and geopolitical risks that include Japan's (EWJ) neighbor North Korea. There was no mention of the existing political uncertainty in Japan, but recent news reports indicate that Japanese Prime Minister Shinzo Abe could call for snap elections in October.
In this series, we'll look at inflation trends in Japan, political uncertainty in Japan (DXJ), the impact of the September policy statement on Japanese equities (SCJ), and the Japanese yen (FXY).