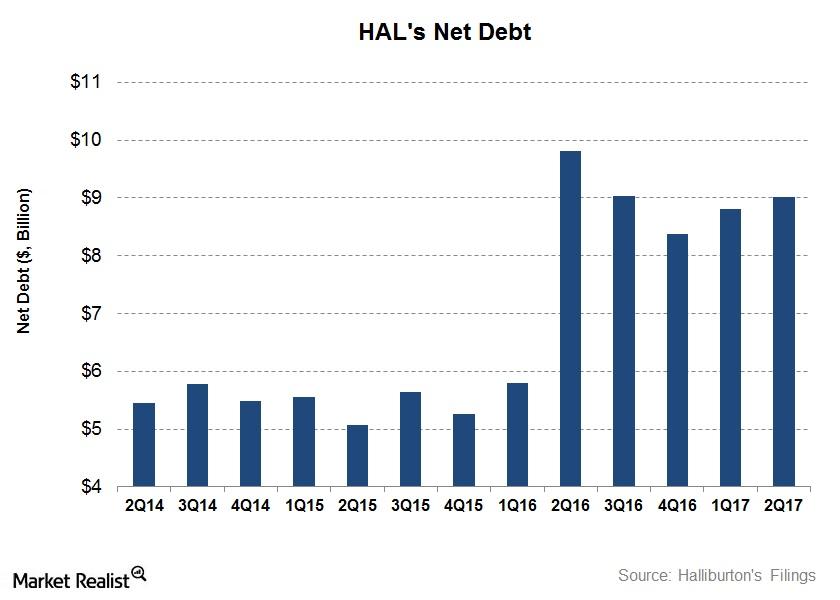 Understanding Halliburton's Net Debt after 2Q17
Halliburton's net debt
In 2Q17, Halliburton's (HAL) total debt fell 14% from 2Q16, while its cash and marketable securities fell 31%. Its net debt, in effect, fell 8% to ~$9.0 billion on June 30, 2017, compared to one year previously.
Thus, despite its sizable decrease in total debt, the steep decline in cash and marketable securities prevented any sharp fall in HAL's net debt. (Net debt is aggregate short and long term debt, minus cash and marketable securities.)
Article continues below advertisement
Is HAL's credit rating improving?
Moody's changed Halliburton's long-term debt outlook from negative to stable in 2Q17. HAL's credit rating with Moody's was Baa1 for long-term debt, and debt with a Baa1 credit rating is subject to moderate credit risk.
During 1Q17, HAL redeemed $1.4 billion of its debt through early extinguishment. This helped improve its credit profile.
By comparison, Fairmount Santrol Holdings' (FMSA) net debt by the end of 2Q17 totaled $618 million. McDermott International's (MDR) net debt was $147 million on June 30, 2017.
Halliburton's indebtedness
Halliburton's net-debt-to-adjusted-TTM (trailing-12-month) EBITDA (earnings before interest, tax, depreciation, and amortization) ratio shot up from 2Q16 to 2Q17. In 2Q17, Halliburton's net-debt-to-adjusted-EBITDA multiple (or indebtedness) was ~4.1x, or 144% higher than one year ago.
Despite its lower net debt, HAL's lower EBITDA led to higher indebtedness in 2Q17.
Notably, Halliburton makes up 2.1% of the iShares North American Natural Resources ETF (IGE). Since June 30, 2017, IGE has risen 1%, compared with the 9% fall in HAL's stock price.
Continue to the next part for a look at Halliburton's free cash flows.