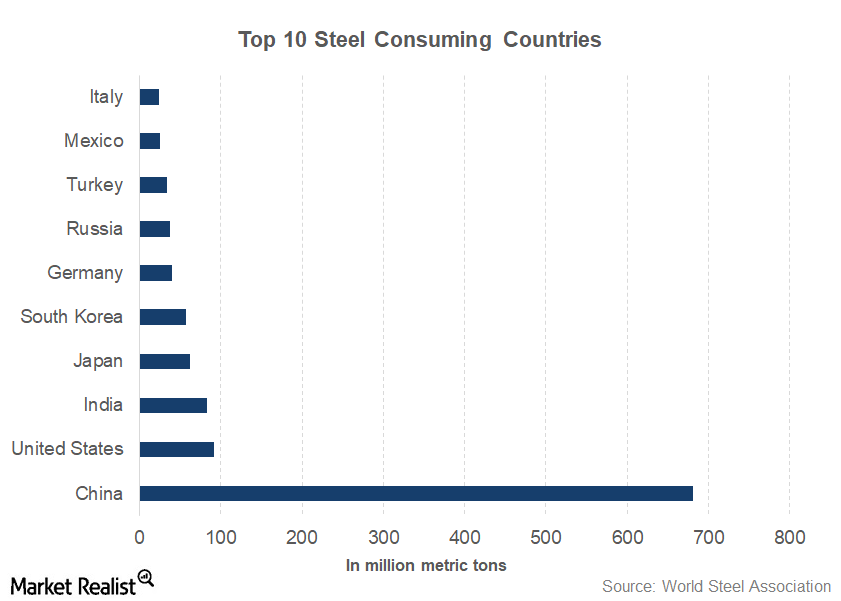 Top 10 Steel Consumers: Where Does the United States Stand?
Top 10 steel consumers
In this part of the series, we'll look at the top ten steel consumers. The data are compiled by the World Steel Association based on 2016 apparent steel consumption (or ASC). Apparent steel consumption is simply the total steel production in a given economy, minus net steel exports. Net exports are exports minus imports. While real steel demand tells us about steel consumed by end users, apparent demand also takes into account changes in inventory.
Article continues below advertisement
China
China was the largest steel consumer last year, with the mainland's ASC at 681.0 million metric tons. The United States (SPY) (SPX-INDEX) was ranked second in terms of ASC. India's ASC was 83.5 million last year, ranking it third. Japan and South Korea are ranked fourth and fifth, respectively, based on 2016 ASC.
Germany was ranked sixth, while Russia holds the sixth rank based on 2016 ASC. Turkey was the seventh-largest steel consumer. Notably, over the next few years, India is expected to surpass the United States to become the world's second-largest steel consumer.
Analysis
There are some interesting observations in global steel production and consumption data. For instance, while the United States is the world's second-largest steel consumer (CLF), the country ranks fourth in terms of steel production. Similarly, while Japan is the second-largest steel producer, it's the fourth-largest steel consumer.
The anomaly could be explained with steel trade. US steel producers, including U.S. Steel Corporation (X), AK Steel (AKS), and Nucor (NUE), have long decried steel imports. In the next part, we'll look at the top ten steel-importing countries.