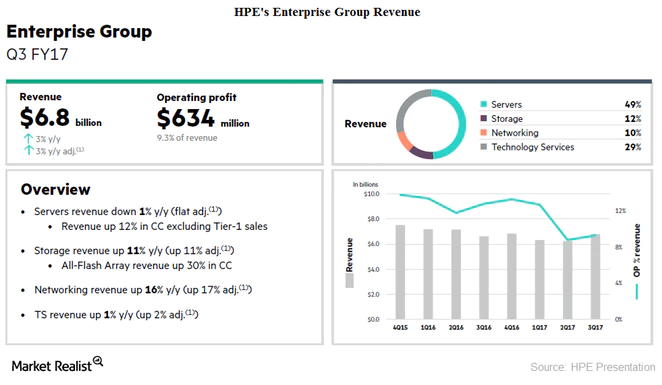 The Challenges Hewlett Packard Enterprise Is Facing
HPE continues to struggle after spin-off from HP
Hewlett Packard Enterprise (HPE) split with HP (HPQ) in November 2015. Almost two years after the spin-off, HPE is still struggling to grow revenues and improve profit margins due to several issues it's facing. It spun off several other business segments to concentrate on core growth areas and is now a much smaller organization.
Article continues below advertisement
Pricing pressure and competition
In February 2017, HPE's CEO (chief executive officer) Meg Whitman lowered the company forecast for fiscal 2017, which negatively impacted the stock. Rising supply costs and competition in the cloud space have impacted HPE's revenue and profit margins in fiscal 2017.
Although HPE has looked at acquisitions to drive revenue in the cloud space, technology heavyweights Amazon (AMZN) and Microsoft (MSFT) have seen cloud revenues rise in the double digits in recent quarters.
HPE's operating margins in its Enterprise Group was 15.0% prior to its spin-off from HPQ. The operating margin for this business has now fallen to 8.8% in fiscal 3Q17, driven by a rise in memory costs, dilution from acquisitions, currency fluctuations, and a difficult price environment.
HPE's revenue fell 8% YoY (year-over-year) in fiscal 3Q16, 9.0% YoY in fiscal 4Q16, 10.0% YoY in fiscal 1Q17, and 13.0% YoY in fiscal 2Q17. Revenue, however, rose 3.0% YoY in fiscal 3Q17 to $8.2 billion after adjusting for divestitures.