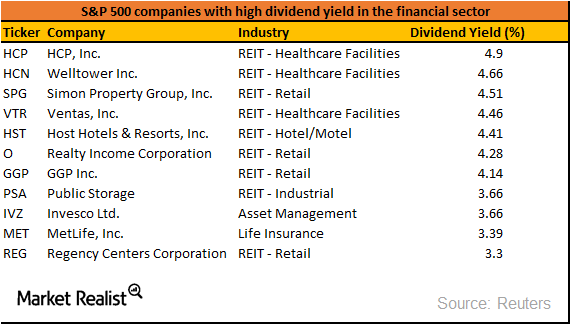 Stocks with High Dividend Yields in the Financial Sector
Overview
This series focuses on S&P 500 companies with high-dividend yields in the financial sector.
As shown in the above list of high-dividend yield S&P 500 (SPY) (SPX-INDEX) companies in the financial sector, they are mostly REITs. The list has been filtered to include market caps of $10 billion–$200 billion. Our timeframe spans from 2014 until the present.
The financial sector has been the main driver behind the S&P 500's (QQQ) solid gains since the 2016 presidential election. The growth was mainly due to anticipation of financial reform, including the dismantling of financial regulations, infrastructure spending, and lower corporate taxes. The sector (XLF), which has gained 21.2% in the last year, has fallen 4.7% in the last month. The fall was driven by lower Treasury yields in the face of lower anticipated inflation, uncertainty over Donald Trump's policies, North Korea, and Hurricane Irma.
Article continues below advertisement
Healthcare REITs
The $1.1 trillion US healthcare real estate market continues to fuel a positive outlook for healthcare REITs. The US population's skewing towards a higher age bracket is expected to drive healthcare expenditure, which is forecast to constitute ~20% of US GDP in the next ten years, according to the Centers for Medicare & Medicaid Services. The population's 75+ age bracket is expected to grow by 11 million between 2020 and 2030, which also signals additional demand for senior housing.
Concerns regarding healthcare REITs
Certain concerns loom for REITs. If the Fed carries on with its interest rate hike, REITs will face higher borrowing costs. A hike would also make long-term Treasuries more favorable than REITs, by driving Treasury yields higher.
The FlexShares International Quality Dividend Index ETF (IQDF) offers a dividend yield of 3.6%, at a PE (price-to-earnings) ratio of 18.7x. It has a 25%, 5%, and 2% exposure to financials, healthcare, and real estate, respectively. The ETF also has major exposure to Europe. The WisdomTree Europe SmallCap Dividend ETF (DFE) offers a dividend yield of 2.6%, at a PE ratio of 14.6x. It has a 15%, 6%, and 3% exposure to financials, real estate, and healthcare, respectively.
In this series, we'll look at 11 S&P 500 companies offering high dividend yields. In the next part, we'll start with healthcare REITs.