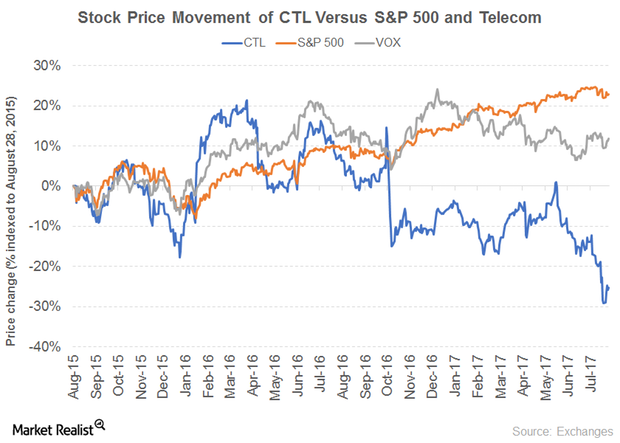 How CenturyLink is Maintaining Its Dividend Yield
The story behind CenturyLink's 8% yield
Another acquisition-driven telecom company is CenturyLink (CTL). The cohesive communications company provides a wide range of services to its residential and business customers. Like Frontier, it has been impacted by the slowing traditional phone business.
Article continues below advertisement
A look at CenturyLink's earnings per share
CenturyLink's interest expenses have remained consistent. The company has recorded positive EPS (earnings per share) over the last three years, thanks to share buybacks. In 2015, it witnessed 16% EPS growth. CenturyLink's2016 EPS fell 27% between 2015 and 2016 due to lower revenue and operating income. Its free cash flow fell along with its operating cash flow.
CenturyLink's debt-to-equity ratio of 1.4x is lower than Frontier Communications'. Its stock price returns have been beaten by the telecom services industry and S&P 500, as shown in the chart above.
Growing dividend yield decoded
The company's situation did not change much in 1H17. Its EPS fell 59%, preceded by a 6% fall in revenue. Its operating income fell 25%. It would be worthwhile to observe the effect of the acquisition of Level 3 Communications, a global telecommunications and Internet service provider.
The pullback in prices has played a role in inflating the company's dividend yield. Its dividend per share has not changed since 2013. The iShares International Select Dividend ETF (IDV) covers various sectors and geographies. It has substantial exposure to Europe and financial companies, and offers a dividend yield of 4.2%, at a PE (price-to-earnings) ratio of 13.5x. The ETF has an 8% exposure to small caps. The iShares Select Dividend ETF (DVY) has substantial exposure to utilities and offers a dividend yield of 3.1%, at a PE ratio of 20.3x. The ETF has a 14% exposure to small caps.