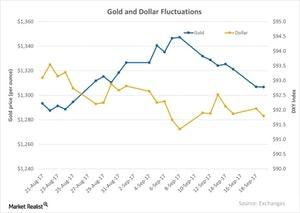 Precious Metals, Miners and the Scaling Dollar
Precious metal movement
Gold prices rose on Wednesday, September 20, 2017, after three straight days of losses, but then, later in the day, prices fell again after the US Federal Reserve indicated one more interest rate hike in 2017.
At the start of the day, the dollar was seen retreating, and the equity market had also stopped scaling, which gave some buoyancy to precious metals. But, as the day passed, the US dollar began mounting, following the monetary tightening statement by the Fed. The US dollar, depicted below by the DXY Currency Index or DXY, rose 0.78% on Wednesday and ended at 92.5.
Article continues below advertisement
Dollar fluctuations
Precious metals and the US dollar (UUP) are very closely related to each other, and the scaling US dollar is often harmful to precious metals because they are dollar-denominated assets.
A higher dollar draws investors away from the more expensive greenback assets, while a fall in the dollar leads gold and silver prices to climb. On a YTD (year-to-date) basis, DXY has lost ~9.5%, while gold and silver have risen 12.9% and 8%, respectively, YTD.
The rise of the dollar—given the Fed's impact—was negative not only for precious metals by the end of the day but also for mining companies like Harmony Gold (HMY), Coeur Mining (CDE), Barrick Gold (ABX), and Yamana Gold (AUY). These four mining shares dropped 5%, 1.6%, 2.5%, and 2.9%, respectively, on Wednesday. The Global X Silver Miners (SIL) and the Sprott Gold Miners (SGDM) fell 1.3% and 1.9%, respectively, the same day.