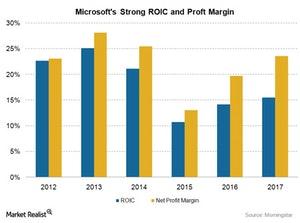 How Microsoft Earned a Wide Economic Moat Rating
By VanEck

Sep. 25 2017, Updated 12:36 p.m. ET
VanEck
Switching Costs in Action: Four Case Studies of Moat Companies
To demonstrate the power of switching costs in creating economic moats, we highlight four moat companies: U.S.-based Microsoft and TransDigm Group, and international moats Canadian Imperial Bank of Commerce (Canada) and KION Group (Germany).
Microsoft Corp.'s (MSFT US) Office software is used by more than one billion people around the world. Morningstar has assigned Microsoft a "wide economic moat" rating given its strong network effect and switching costs: "Microsoft's office tools are robust, as the suite is widely used and easily understood by enterprise employees around the world, leading to increased compatibility and efficiency when collaborating." The Windows Operating System has created a virtual monopoly for Microsoft, while the Microsoft Office suite offers one of the most complete feature sets on the market. Microsoft has also become one of the world's leading cloud computing firms.
Article continues below advertisement
Market Realist
How Microsoft obtained a moat rating
The technology space is the most competitive industry, making it crucial for tech companies to have a competitive edge for survival. Microsoft (MSFT) has created this competitive advantage for itself through its brand strength, network effects, switching costs, and economies of scale.
The chart above shows how Microsoft sustained its profit margin and return on invested capital (or ROIC) over the years by obtaining a competitive advantage. The company's current ROIC is 15.4%, compared to its five-year average of 17.3%. Meanwhile, its net profit margin of 23.5% is higher than its five-year average of 21.9%. For the upcoming fiscal 1Q18 earnings, Wall Street expects a profit of 72 cents per share on revenue of $23.47 billion.
Microsoft has created an industry standard with its Microsoft Office software. Switching costs include procedural, financial, and relational costs if consumers were to shift to something new. Imagine a business with a million documents in Microsoft Word that suddenly has to move to different software. This is where switching costs come into play, creating a competitive edge. Also, it's hard to work with word processing software that doesn't create or accept .doc files. These factors made it easier for Microsoft to establish dominance in this segment.
Although Amazon (AMZN) still dominates the cloud space, Microsoft isn't behind, and it's one of the leading players in the cloud market segment. Data from Synergy Research Group showed that, for 2Q17, Microsoft's Azure accounted for an 11% market share in the cloud market. Amazon Web Services still holds first place with a 34% market share. Cloud services contribute to economies of scale for Microsoft, creating a moat (MOAT).