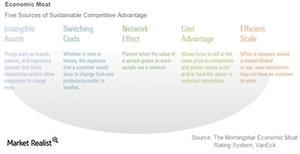 Why Switching Costs Help Build Powerful Moats
VanEck
Customers Get Locked-In by Switching Costs
Many successful companies build customer loyalty by offering high-quality products and/or services. Some also have the unique advantage of integrating their products or services into a customer's daily activities and operations, therefore making it tough and costly to switch providers. Powerful moats can be built on "switching costs" which are often embedded in strong business models. Switching costs lock customers into a company's unique ecosystem and make it expensive to move. Not just monetary in nature, switching costs can also be measured by the effort, time, and psychological toll it takes to switch to a competitor.
Article continues below advertisement
Article continues below advertisement
Switching costs have the potential to put a company in a position to increase prices and deliver hefty profits over time. They are a key competitive advantage and are evident in a range of industries, from camera equipment to computer software/hardware to telecoms, interalia: Nikon or Canon? Apple or PC? AT&T or Verizon? Morningstar Research explains them as:
Switching Costs. When it would be too expensive or troublesome to stop using a company's products, the company often has pricing power. Architects, engineers, and designers spend entire careers mastering Autodesk's ADSK software packages, creating very high switching costs.
An Early Example: Gillette Razor Blades – Designed to Create Brand Attachment
King Camp Gillette, the inventor of the first mass-produced safety razor, was one of the first entrepreneurs to optimize the switching cost approach to lock in customers. In 1902, Gillette developed and began selling inexpensive razors with disposable blades that he had patented. This ensured Gillette a constant high demand for blades, as customers who considered other blades quickly realized that they would incur the cost of a new razor as well.
Article continues below advertisement
Market Realist
What are switching costs?
As we discussed in the previous part of this series, there are five sources of economic moat (MOAT)(MOTI) or competitive edge. One of the source-switching costs is a strategy adopted by businesses to retain customers and gain a competitive advantage over competitors. Customers bear switching costs when they decide to move on from one product or service to another. Authors Thomas A. Burnham, Judy K. Frels, and Vijay Mahajan discuss switching costs in "Consumer Switching Costs: A Typology, Antecedents, and Consequences." As the chart below shows, they describe switching costs in three types.
Procedural switching costs include time and effort costs linked to analyzing, learning, setting up, and accepting uncertainty when shifting from one product or service to another.
Financial switching costs include losing benefits acquired with a particular product or service or paying registration fees and deposits again.
Relational switching costs include more customers losing comfort with a particular product, service, or brand.
The higher the switching costs, the higher the chances of customer retention, which gives companies pricing power and an opportunity to increase their revenues and profits.
In the rest of this series, we'll discuss how the US-based Microsoft (MSFT) and TransDigm Group (TDG), the Canada-based Canadian Imperial Bank of Commerce (CM), and the Germany-based KION Group managed to obtain moat ratings through a switching cost strategy.
Let's begin with Microsoft in the next part of this series.