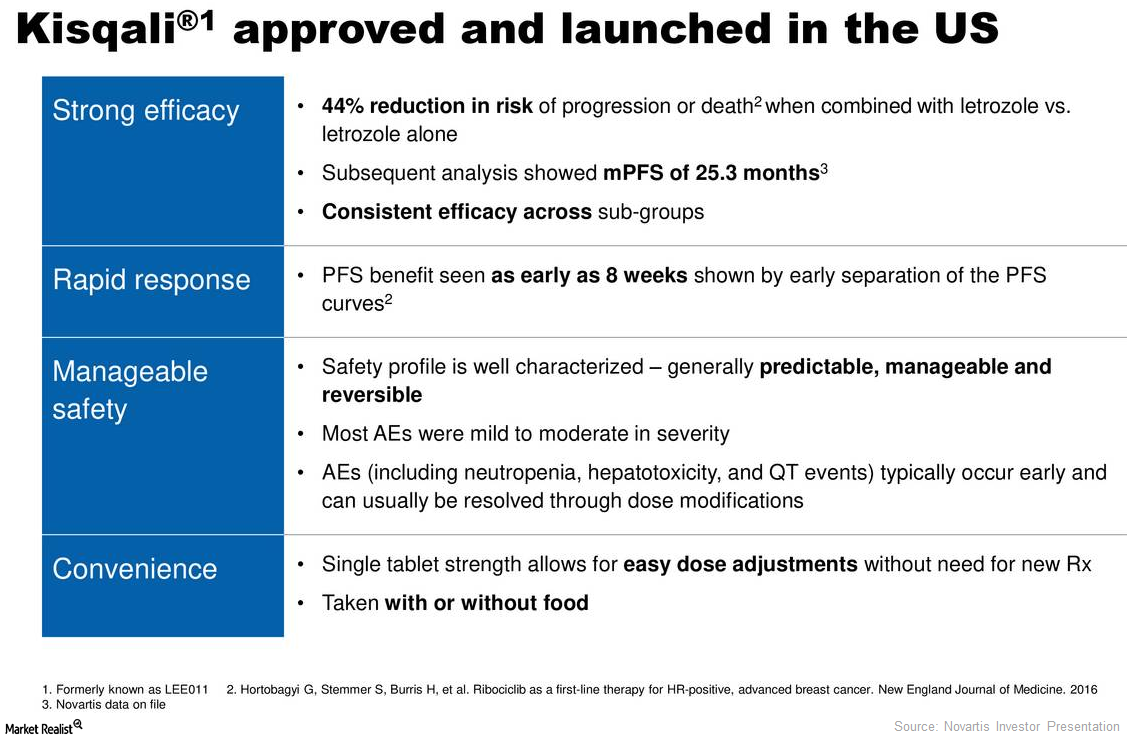 Kisqali Could Significantly Boost Novartis's Revenue Growth
Kisqali revenue trends
In 1H17 and 2Q17, Novartis's (NVS) Kisqali reported revenues of around $15 million and $8 million, respectively.
Article continues below advertisement
Kisqali approval
In March 2017, Novartis's Kisqali received U.S. Food and Drug Administration (or FDA) approval as a first-line treatment for postmenopausal women with hormone receptor-positive (or HR+), human epidermal growth factor receptor-2 negative (or HER2-) metastatic breast cancer in combination with an aromatase inhibitor. In August 2017, the European Union (or EU) granted Kisqali marketing authorization in the European Union for the same indication.
MONALEESA-2 trial
The U.S. FDA and EU approval of Kisqali were based on the results from the phase 3 MONALEESA-2 trial. In this trial, Kisqali and letrozole (an aromatase inhibitor) combination therapy demonstrated a decrease in the risk of progression/death by 43% compared to letrozole alone. Patients on Kisqali and letrozole combination therapy showed a median progression-free survival (or PFS) of 25.3 months compared to a median 16.0 months for patients on letrozole alone.
The over-activation of the proteins cyclin-dependent kinase 4 and 6 (or CDK4/6) helps in faster cell division and growth of cancer cells. Kisqali inhibits the CDK4/6 activity, thus slowing down the progression of cancer. Kisqali is available as 200-mg tablets. The drug is recommended with a starting dose of 600-mg once daily for 21 days consecutively, followed by seven days off.
Kisqali is expected to give stiff competition to Pfizer's (PFE) Ibrance. Novartis's peers in the breast cancer drugs market include Pfizer, Roche (RHHBY), AstraZeneca (AZN), AbbVie, and others. The growth in sales of Novartis's Kisqali could boost the share prices of the Vanguard FTSE Europe ETF (VGK). Novartis makes up about ~1.5% of VGK's total portfolio holdings.