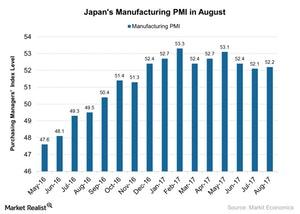 How Japan's Manufacturing Activity Trended in August 2017
Japan's manufacturing PMI in August
Japan's manufacturing PMI stood at 52.2 in August 2017 as compared to 52.1 in July 2017. The PMI figure didn't beat the preliminary market estimate of 52.8.
The marginal improvement in Japan's manufacturing PMI in August 2017 was mainly due to the following factors:
Production volume and output improved at a higher rate in August 2017.
New orders and export orders all expanded at a faster pace during the month.
Employment in the manufacturing sector also rose during the month.
The rise in Japan's manufacturing is mainly due to the improvement in both domestic demand (EWJ) (DXJ) and international demand (ACWI) (VTI). Japan's consumer confidence also improved in August to 43.8 compared to 43.3 in July.
Article continues below advertisement
The recovery in global demand is helping Japan's economy. However, the geopolitical risk due to North Korea is impacting the movement of its currency. The fluctuation in the Japanese yen (FXY) could impact the country's exports. However, the stronger export orders in the past one year are helping the economy.
In the next part of this series, we'll analyze the performance of the UK's manufacturing PMI in August 2017.