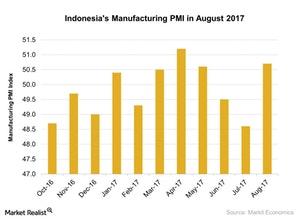 Indonesia Manufacturing PMI Saw Sharp Rise in August 2017
Indonesia manufacturing PMI
In August 2017, Indonesia's (IDX) (ASEA) manufacturing activity saw a sharp rise in overall business conditions as compared to a contraction in the previous month. Indonesia's manufacturing PMI stood at 50.7 in August 2017 as compared to 48.6 in July. The PMI figure met the market expectation of 50.5.
Indonesia's stronger manufacturing PMI in August was mainly due to the following factors:
Production output and volume improved at a higher rate in August 2017 as compared to July.
New orders and export orders all rose at a faster pace in that month, which shows that client demand went up and the business condition improved in the economy.
However, employment in the manufacturing sector remained lower in that month.
The rise in both domestic and international (ACWI) (VTI) demand in August 2017 drove the manufacturing activity. The country highly depends on its domestic market and government spending for its growth. Although the domestic demand improved in August, public spending and purchasing activity fell marginally.
The overall fall in public spending in the second quarter of 2017 hampered the economic growth in that quarter. President Joko Widodo is now focusing on major infrastructure programs to accelerate the economic activity in the country.
In the next part of this series, we'll analyze the performance of Russia's manufacturing PMI in August 2017.
Article continues below advertisement