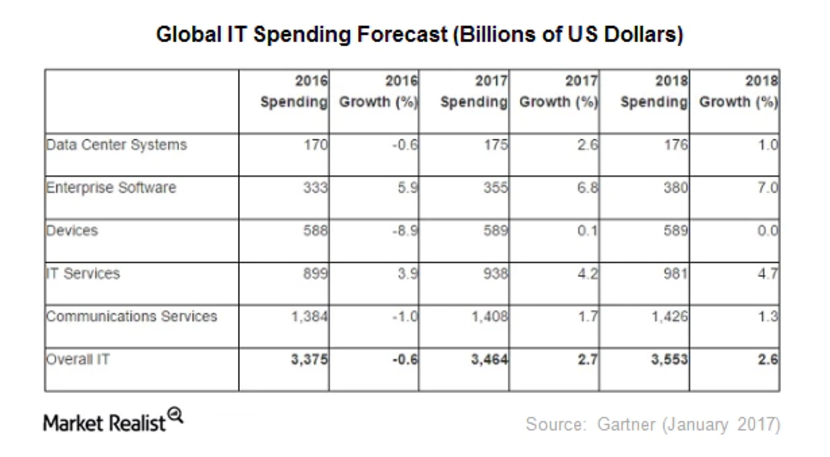 How Oracle Stock Compared to the S&P 500
Oracle stock versus S&P 500 and computer software sector
Earlier in the series, we discussed the factors that have provided a boost to Oracle stock. Oracle's cloud offerings' increased traction could encourage its upward stock trajectory. Oracle stock, which started 2017 at $38.45, is currently trading close to $51.00. If we consider its one-year and five-year performance, Oracle stock has risen ~25% and ~59%, respectively.
Let's see how Oracle stock has performed in comparison to the computer software sector and the S&P 500. In 2017 to date, Oracle stock has surged 33% and outperformed the computer software sector, which grew 24% year-to-date. Oracle stock has outperformed the S&P 500 Index, which rose only 11.6%.
Article continues below advertisement
The cloud dominates information technology spending
Gartner's recent estimates show enterprise software spending is expected to grow 8.6% to $326.0 billion in 2017. Spending on hardware, or data center systems, is expected to grow just 1.2% to $170.0 billion. Overall IT software spending is expected to grow much faster than hardware spending.
Gartner's estimates also show that information technology spending could shift toward public cloud offerings from conventional IT systems, leading to high growth through 2021. IT spending is expected to grow at a CAGR (compound annual growth rate) of 15.9% to $436.4 billion.
Through 2021, growth rates are expected to fall slightly. Amazon (AMZN), the top player with a market share of 40%, should benefit most from this trend. Microsoft (MSFT), IBM (IBM), Oracle (ORCL), Google (GOOG), and other leading players in the cloud space could also benefit from this trend.
Oracle's Cloud business grew 60% to ~$4.6 billion in revenues in fiscal 2017, up from $2.9 billion in fiscal 2016. Cloud revenues contributed ~12.2% to the company's overall revenues in fiscal 2017 compared to 8.0% in fiscal 2016.