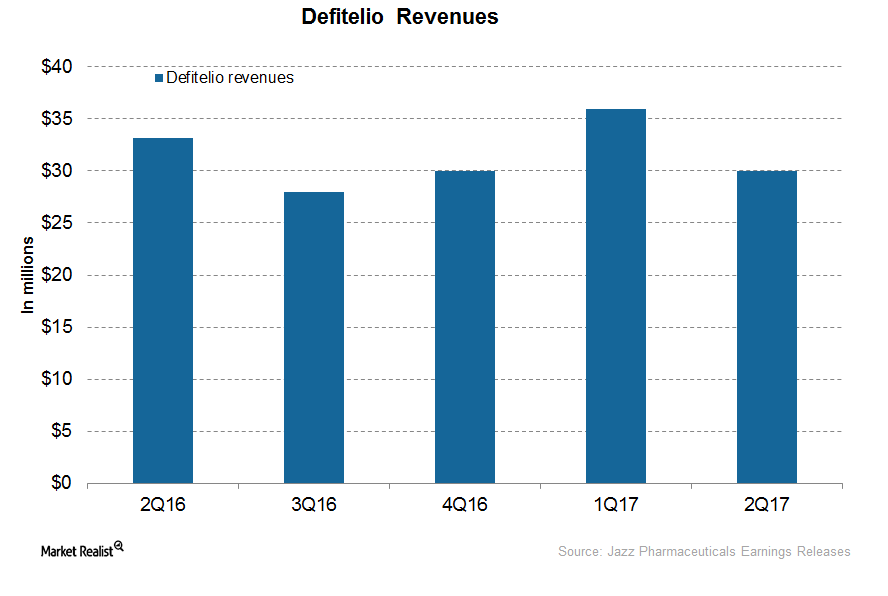 How Is Jazz's Defitelio Positioned after 2Q17?
Defitelio's revenue trends
In 2Q17, Jazz Pharmaceuticals' (JAZZ) Defitelio generated revenues of ~$30 million, which represents a ~10% fall on a YoY (year-over-year) basis and a ~17% fall on a QoQ (quarter-over-quarter) basis. In 1H17, Defitelio reported revenues of ~$66 million, which represents ~30% YoY growth.
Jazz is clearly focused on geographical expansion for Defitelio. In July 2017, it received marketing approval for Defitelio in Canada, and the company anticipates that it will make the product available in Canada by the end of 2017.
Article continues below advertisement
About Defitelio
Defitelio (defibrotide sodium) treats adult and pediatric individuals with hepatic VOD (veno-occlusive disease) with pulmonary dysfunction after HSCT (hematopoietic stem-cell transplantation). In March 2017, Jazz and Nippon Shinyaku entered into a license agreement for development and marketing of Defitelio and Vyxeos in Japan. Nippon will make advance payments to Jazz to have exclusive rights for the sale of Vyxeos and Defitelio in Japan.
Jazz is extensively conducting clinical trials for the label expansion of Defitelio. It's now conducting a phase-3 clinical trial for the evaluation of the safety and efficacy of defitelio compared with BSC (best supportive care) for the prevention of hepatic VOD in adult and pediatric individuals undergoing HSCT who are at high risk or at very high risk of developing VOD.
Jazz's peers in the rare disease drug market include Alexion Pharmaceuticals (ALXN), BioMarin Pharmaceuticals (BMRN), Vertex Pharmaceuticals (VRTX), Amgen, and Shire Pharmaceuticals. Notably, the Vanguard Extended Market ETF (VXF) has ~0.21% of its total portfolio holdings in JAZZ.