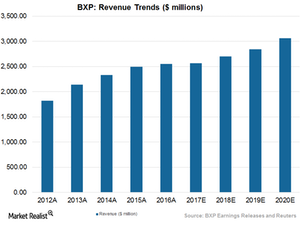 How Did Boston Properties Fare in 1H17?
The recently concluded 2Q17
The growing economy has acted as a boon to REITs, and with the help of their strategic initiatives, these REITs have been able to take advantage of the opportunity and report higher revenue and profits.
The commercial REIT Boston Properties (BXP) has reported an uptick in its top-line and bottom-line results backed by higher leasing activities and occupancy levels. In the recently reported 2Q17, Boston Properties reported adjusted FFO (funds from operation) of $1.67 per share, which surpassed Wall Street estimates by a decent 4.2% and the year-ago mark by approximately 17%. The profits also outpaced management's expectations mainly driven by operational efficiency.
The company also reported higher-than-expected revenue of $656.91 million, which outpaced Wall Street expectations backed by 2.5% and the year-ago mark by 5.2%. Higher occupancy and greater leasing activity helped the company boost revenue during the quarter.
Article continues below advertisement
Strong 1H17
Revenue remained flat year-over-year at $1.3 billion during 1H17. The company, however, incurred lower expenses of $444.9 million compared to $468.5 million incurred a year ago. FFO per share went up to $3.15 per share compared to $3.06 per share reported in the previous year. Rent went up 2.6% year-over-year in 1H17, and occupancy remained flat at 92.9%.
During the first half 2017, Boston Properties carried on aggressive leasing activities. It leased out approximately 2.8 million square feet year-to-date in 2017.
Boston Properties also raised significant new capital year-to-date in 2017 and started $1 billion in new developments of fully leased office spaces. The first half was an active period for the company and it was able to bag 30 deals at 19 distinct buildings spanning across an average area of 20,000 square feet and at the rate of $100 per square foot.
Other REITs like Simon Property (SPG), Prologis (PLD), and Vornado Realty Trust (VNO) also reported upbeat results in 2Q17 backed by strategic sales boosting initiatives and prudent cost control. BXP and these commercial REITs make up almost 15% of the ETF First Trust S&P REIT ETF (FRI). The ETF has an average traded share volume of 58,418, which is expected to rise following REITs' strong results in 1H17.
In the next article, we'll see how BXP expects to spend the rest of the year.