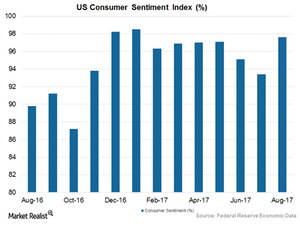 How Boston Property Is Flourishing despite Rising Interest Rates
Are more interest rate hikes in the cards?
The Fed is raising interest rates in a phased manner in order to reach its targeted level of 2%. The central bank has raised interest rates twice so far in 2017, and speculators expect another rate hike in 4Q17. Although the US economy at the moment faces a low inflation rate, there are ample signs of growth in the country.
Although it is a common belief that high interest rates are usually bad for REITs like Boston Properties (BXP), Simon Property (SPG), Prologis (PLD), and Vornado Realty Trust (VNO), we find that REITs have continued in their growth trajectory in the past few months. In this article, we'll discuss the factors behind this phenomenon in more detiail. REITs make up almost 15% of the First Trust S&P REIT ETF (FRI), which has a YTD return of 2.9%.
Article continues below advertisement
Employment growth boosts demand
Slow but steady growth in employment coupled with Trump's pro-American stance has added to the momentum of the economy. There is a high rate of job growth, particularly in Class A cities, which has led to higher demand for Boston Properties' office spaces, which in turn has boosted top-line results.
Underlying growth in the economy
The US economy is currently going through a phase of fast growth backed in part by the "buy American, hire American" and "make America great again" rhetoric from President Donald Trump, which has led to a sense of optimism among US consumers.
As per results released by the University of Michigan in June 2017, the consumer sentiment index rose 8.7% year-over-year in August, standing at 97.6%. It was 4.5% higher than that recorded in July 2017. This reason could be attributed to the fact that consumers are more optimistic about the future of their economy and their personal financial prospects.
This sense of optimism has translated into increased discretionary spending by consumers, thus resulting in a spike of traffic for the company's commercial properties.