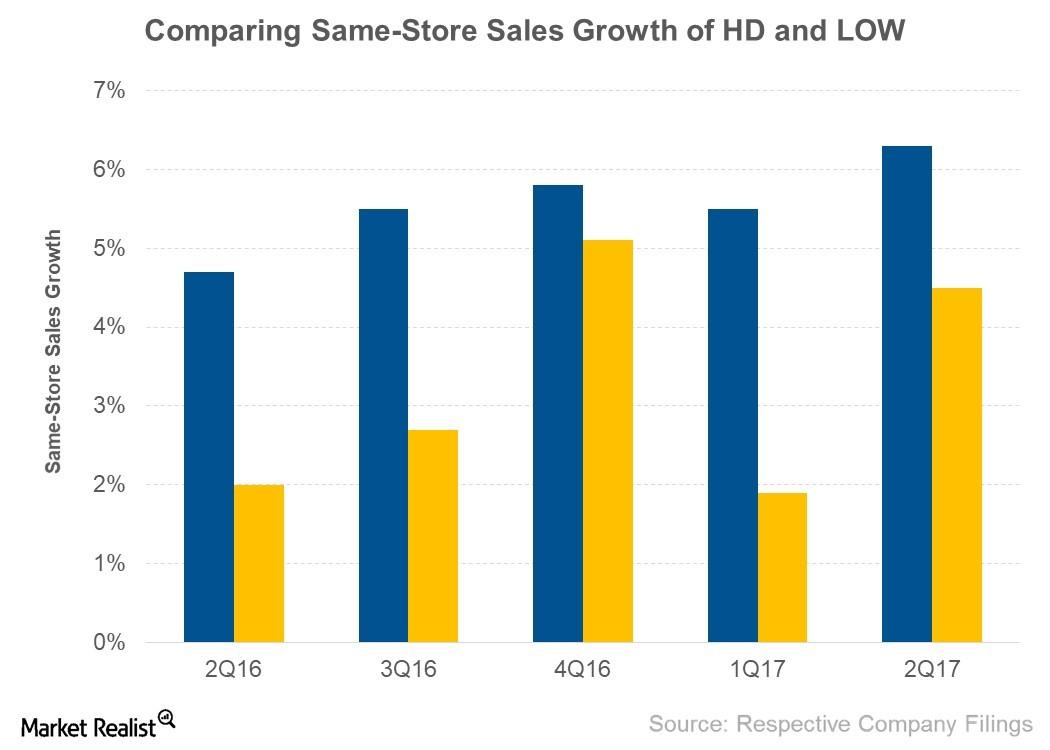 Home Depot's Same-Store Sales Growth Was Higher than Lowe's
Same-store sales growth
Measured as a percentage, SSSG (same-store sales growth) represents a rise in sales from existing stores over a certain period. SSSG is an important matrix to measure the company's performance because it increases the company's revenue without increasing capital expenditure.
Article continues below advertisement
Home Depot's SSSG
Home Depot (HD) posted SSSG of 6.3%, while its US stores posted SSSG of 6.6%. Its stores in Mexico and Canada also posted positive SSSG in their respective currencies. Home Depot's SSSG was driven by growth in the number of transactions and a rise in the average ticket size. The transaction growth contributed 2.6% to Home Depot's SSSG, while the increased ticket size contributed 3.6%.
The faster home price appreciation, reemergence of first-time homebuyers, and growth in the repair and remodel market drove Home Depot's SSSG in 2Q17. Pro customers outperformed the DIY (do-it-yourself) customers. Strong lumber, building material, power tools, pipe and fittings, and wire sales drove the pro sales.
Home Depot enhanced its customer experience by implementing the frictionless interconnected retail system. It improved the content and mobile experience, which drove the company's online sales.
Lowe's SSSG
Lowe's (LOW) posted SSSG of 4.5% in 2Q17. The growth in the number of transactions contributed 0.9% towards its SSSG in 2Q17. A rise in the average ticket size contributed 3.6%. Compelling offers, an integrated omnichannel experience, and improved messaging drove Lowe's SSSG. The implementation of an improved product search, integrated and upgraded product videos, extended descriptions and specifications, and enhanced presentations helped Lowes.com post SSSG of 43%. The company's strong value proposition through "5 Ways to Save" and omnichannel offerings drove sales from pro customers across all of the categories.
Moving to the international market, Lowe's posted mid-single-digit SSSG in Canada and Mexico.